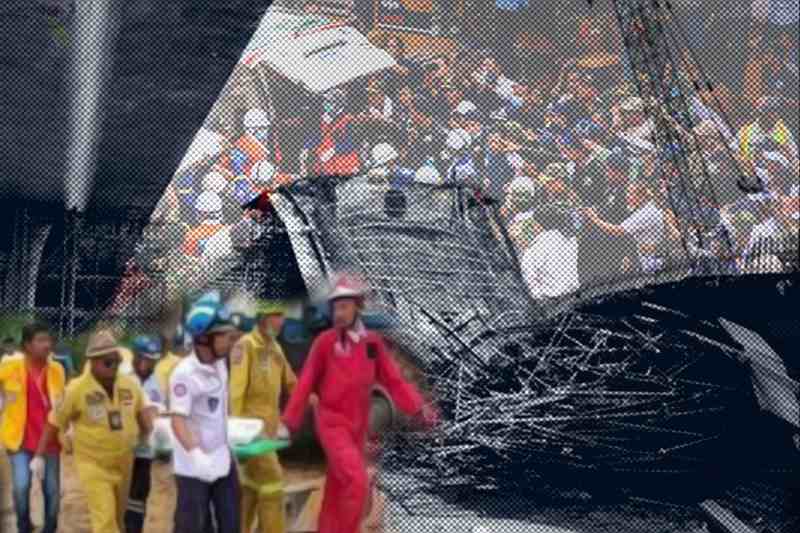 Cambodian migrant laborers,
On 25 Jan, 10 migrant laborers got injured in a traffic overpass collapse in the Muang region. Nine laborers from Cambodia and Myanmar were injured along with one migrant laborer from Thailand. They were admitted to the Bangkok Hospital Ratchasima, Maharat Nakhon Ratchasima Hospital, and Saint Mary's Hospital with injuries like broken arms and legs.
Pol Capt Thatchapon Meephuang, an officer with Jorhor police, stated that the episode happened at a bridge which was under construction road towards the north of city Nakhon Ratchasima. It is situated close to Highway 205 intersection on Sura Narai Road in tambon Khok Sung.
A 14.5 kilometer-ring road project was getting constructed under the supervision of the Department of Highways with a 1.4 billion baht budget.
The police had found a metal structure that upheld the overpass construction which collapsed probably from the pouring of heavy cement. The overpass might not have been able to withstand the pressure.
The Highways Maintenance Management Office 10 (Nakhon Ratchasima) revealed that traffic in the region, lighting, and the street surface was safe from the incident.
The Ministry of Foreign Affairs and International Cooperation spokesperson Koy Koung revealed to The Post on Jan 25 that the collapse took place in Moeurng Nokor Reach Seima district's Kok Suong village in Thailand's Nokor Reach province.
Kong added that Cambodia's consulate officials had visited the injured laborers and provided donations, for example, canned fish, noodles, rice, soy sauce, cash, alcohol, facial mask, etc. The consulate in cooperation with the Thai officials is catering to the requirements of the injured migrant workers.
The construction company has been ordered to clear the dismantled area, pick the debris, and while the investigation is on, authorities have requested to continue providing medical aid to the injured.