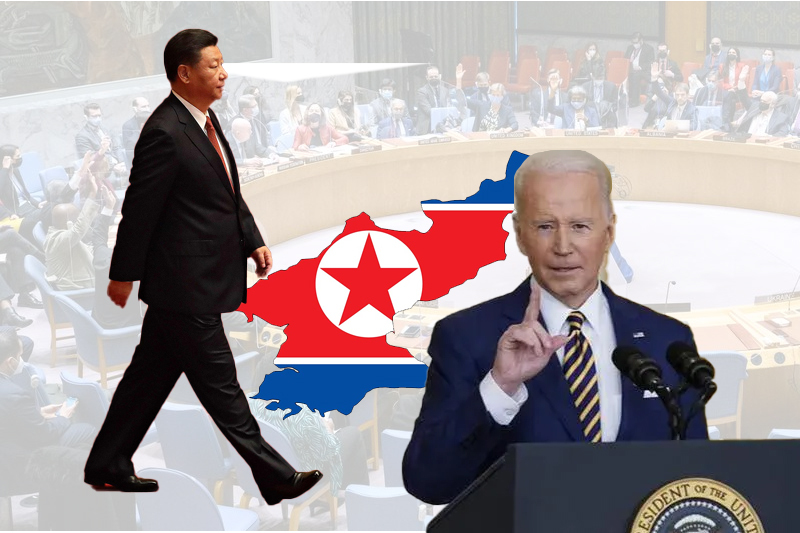 west spotlights north korea rights abuses; china opposes
UNITED NATIONS  (AP) — At a U.N. meeting on Friday that China and Russia denounced as politicised and likely to increase tensions on the Korean peninsula, the United States, its Western allies, and experts shed light on the dire human rights situation and growing repression in North Korea.
U.S. Ambassador Linda Thomas-Greenfield criticised China's decision to prevent the U.S. from streaming the informal Security Council meeting globally on the internet as an effort to conceal North Korea's "atrocities from the world."
All 15 council members must agree before webcasting can take place. The U.S. envoy, however, claimed that Beijing's efforts were in vain because the meeting would be made public and because the U.S. and many other countries would continue to denounce Pyongyang's violations of international law and threats to peace.
According to James Turpin, a senior official in the Office of the U.N. High Commissioner for Human Rights, "these tensions cannot be separated from the dire human rights situation in the Democratic People's Republic of Korea," the North's official name, and pose a threat to regional and global peace and security.
North Korea has been shut out since the COVID-19 pandemic began in early 2020. Turpin noted that the absence of international UN staff "coincides with an increase in the repression of civil and political rights" in the nation.
She cited tighter government restrictions on access to information from the outside world, a high level of surveillance, arbitrary searches of people's homes for items not approved by the government, and harsh penalties for anyone trying to exercise fundamental freedoms like freedom of expression, religion, or peaceful assembly.
The United Nations' special enquirer on human rights in North Korea, Elizabeth Salmon, emphasised "the interdependence of international peace and security and human rights," saying that issues of peace and denuclearization cannot be addressed without taking into account the ongoing abuses of human rights.
She informed the group that the scant information available indicated that the suffering of North Koreans had increased and that their already restricted freedoms had shrunk. People have "frozen to death during the cold spells in January," some didn't have the money to heat their homes, and others were forced to live on the streets because they sold their homes as a last resort. Access to food, medicine, and health care remains a top priority.
The U.S.'s discussion of human rights in the Security Council, whose responsibility it is to maintain international peace and security, has drawn criticism from China's U.N. Mission counsellor Xing Jisheng, who claims that it "is not constructive in any way." He asserted that doing so "may rather intensify the conflict, and therefore it's an irresponsible move" rather than reducing tension.
Keep Reading
If nations are truly concerned about the situation on the Korean peninsula and the welfare of the populace, Xing continued, they should work to relaunch dialogue, de-escalate tensions, and support lifting sanctions that have an impact on North Koreans' ability to live their lives and the country's deteriorating humanitarian situation.
Senior counsellor at Russia's U.N. mission, Stepan Kuzmenkov, echoed China's opposition to the Security Council discussing human rights and asserted that there was no justification for calling the meeting because it "has a clear anti-North Korean bent."
He accused the U.S. of spreading false information about North Korea "on the pretext that they are trying to protect human rights" and accused the U.S. of using human rights "to settle scores with the governments not to their liking."
"What we see is that the US, South Korea, and Japan are engaging in aggressive, militaristic activities, thereby escalating tensions in northeastern Asia, endangering the security of countries in the region," Kuzmenov said. "The Americans are ignoring measures that would lower tensions and the meaningful and positive signals (North Korean leader) Kim Jong Un is sending, which could result in a potential de-escalation," according to the report.
Thomas-Greenfield of the United States argued in opposition, saying, "The regime's widespread violations of human rights and its threats to our collective security could not be clearer."
She claimed that the ballistic missile and WMD programmes of North Korea pose a threat to global peace and security and are "inextricably linked" to the government's violations of human rights.
Human rights and the needs of the local population are consistently subordinated in the DPRK, according to Thomas-Greenfield.