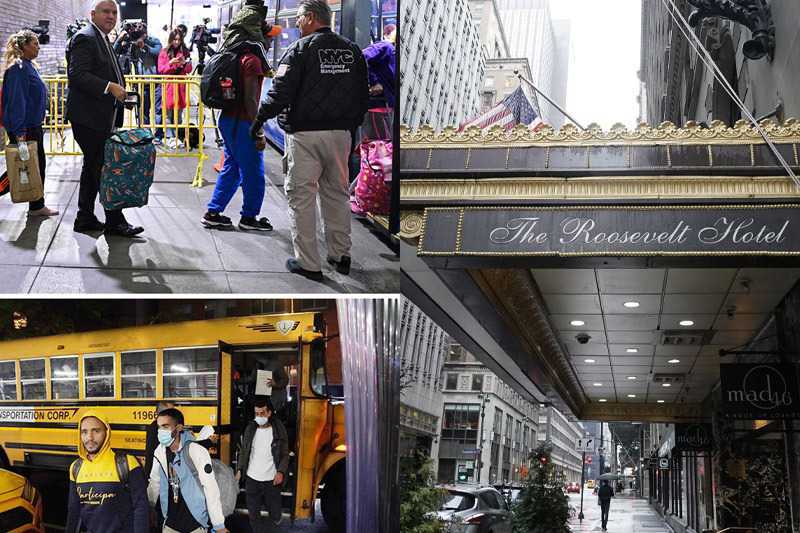 welcome migrants says roosevelt hotel in midtown manhattan
On Friday, the Roosevelt Hotel in Midtown opened its doors to immigrants. Around 7 a.m., the first of the anticipated 15 buses carrying migrants to their hotel arrived in New York City.
The Port Authority, where volunteers played a significant role, is being replaced by the Roosevelt Hotel, which NYC Health + Hospitals manage, as the city moves its welcoming services.
Almost three years have passed since The Roosevelt last operated.
It was forced out of business by the COVID-19 pandemic.
The Roosevelt Hotel will act as a centralized intake hub during this migrant crisis, according to the office of Mayor Eric Adams.
Keep Reading
To accommodate families and children, it is adding 175 rooms every week until it reaches its final capacity of 850.
A variety of legal, medical, and placement in shelter services are available to those seeking asylum.
Current city-cared-for asylum seekers can also visit the arrival center to take advantage of the wide range of services.
It is anticipated that the hotel will offer some crucial assistance during this crisis.
"Our system is under siege. 65,000 people are visiting our city, compared to 4,200 in one week and 900 in one day a week and a half ago. If you think about the numbers, they are truly astounding," Adams said.
A state of emergency has been declared at the Knights Inn in Liberty, Sullivan County, where about 80 asylum seekers were sent on Thursday.
Sullivan County Legislature Chairman Robert Doherty said, "We fear that this will displace a number of our otherwise homeless residents, who we house in this and other lodging establishments."
The city is also currently collaborating with a Red Roof Inn in Poughkeepsie.
"Over 71,000 people are arriving, which is a challenge. Nobody asked for this situation, said Governor Kathy Hochul.
Mayor Adams and Governor Hochul are still requesting help from the federal government.
Currently, the city estimates that the migrant crisis will cost more than $4 billion over the next two fiscal years, with only 37% of that amount anticipated to be covered by state and federal funding.