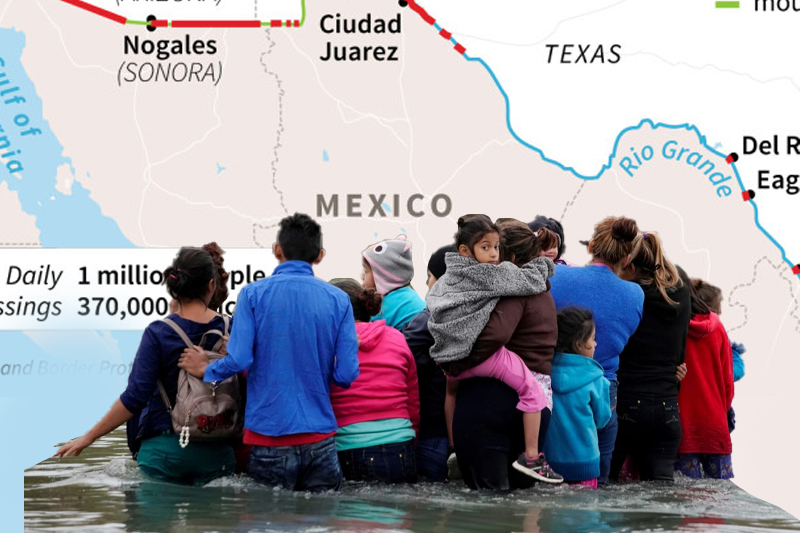 undocumented immigration to mexico increased by 54.6%
Mexicali, 3|  April According to the Interior Ministry, undocumented migrants entering Mexico increased by 54.6% in the first two months of 2023.
According to the Ministry's 2023 Monthly Bulletin of Immigration Statistics, Mexico recorded 70,526 cases of undocumented migrants from January to February, with 66.6% of them being men and traveling to the US.
Chiapas, which receives 41.3% of the migrants, is the state that receives the most, followed by Tabasco (9.3%) and Coahuila (8.8%).
7.4 million people, including 6.1 million foreigners, entered Mexico from outside the country, an increase of 37.5% from the same time in 2022.
Keep Reading
The nation issued 12,398 permanent residence cards and 11,091 temporary ones during the two months.
For migrants traveling to the US from Central America, the Caribbean, South America, and other regions, Mexico serves as a transit country.
Migrants frequently travel more dangerous routes that put them at greater risk of being targeted by organized crime to avoid being detained by Mexican immigration authorities.
Concerns about undocumented immigration rose 54.6% in Mexico
This worrying information on unauthorized immigration to Mexico emphasizes the need for more thorough immigration regulations. In search of a better life, immigrants leave the violence and poverty of their home countries but instead face perilous journeys rife with exploitation. Our governments must collaborate to develop humane solutions that ensure safety while upholding legal boundaries to provide these people with safe pathways and protect them from abuse. Then and only then can we anticipate a decline in the number of illegal border crossings by migrants.