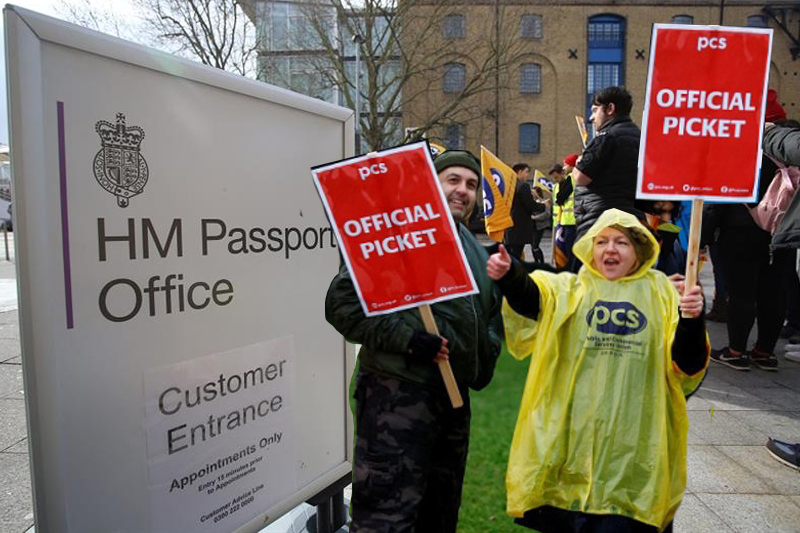 uk passport employees go on 5 week strike over pay
Workers at the UK passport office began a five-week strike on Monday, the newest walkout in a strike-plagued Britain as the nation battles the worst inflation crisis in a generation.
The Public and Commercial Services union (PCS) charged that the government had not treated employees in the public sector fairly.
Recent months have seen a wave of industrial action impact the UK's economy, affecting everyone from doctors, teachers, and dock workers to rail workers, ambulance staff, and rail employees.
According to unions, their members have struggled to pay their bills as a result of decades-high inflation and stagnant wages.
Mark Serwotka, general secretary of the PCS, claimed that despite talks having begun with unions that represent teachers and health care workers, ministers had "failed to hold any meaningful talks" with civil servants.
"They treat their own employees worse than they treat anyone else. "They've had six months to settle this dispute, but during that time they've refused to improve the two percent pay increase that was mandated and ignored the other issues that our members have expressed concern about," he said.
They appear to believe that if they ignore our members, they will disappear. But given that 40,000 civil servants use food banks and that 45% of them are claiming the benefits they manage themselves, how can our members ignore the cost-of-living crisis? he continued.
The union wants discussions about wages, employment conditions, pensions, and retirement plans.
Picket lines will be set up outside eight sites, and more than 1,000 members of the PCS civil servants union are expected to participate in the walkout.
Month of strike….
Keep Reading

On April 28, more than 130,000 civil servants nationwide are expected to strike.
Large pay increases in the public sector have been demanded, but Prime Minister Rishi Sunak has rejected them because they are unaffordable and will increase inflation.
A day after the health unions announced they had reached a pay agreement, the UK government and teaching unions agreed to hold "intensive talks" earlier this month.
However, the leaders of the teacher union announced additional walkouts on Monday after rejecting the most recent pay offer.
In addition to an average pay increase of 4.5 percent for the following school year, the government had offered teachers a one-time payment of £1,000 ($1,231) for the current academic year.
However, English National Education Union (NEU) members decided to reject the agreement and go on strike on April 27 and May 2.
Mary Bousted and Kevin Courtney, joint general secretaries of the NEU, criticised the offer as exhibiting a "astonishing lack of judgement and understanding of the desperate situation in the education system."