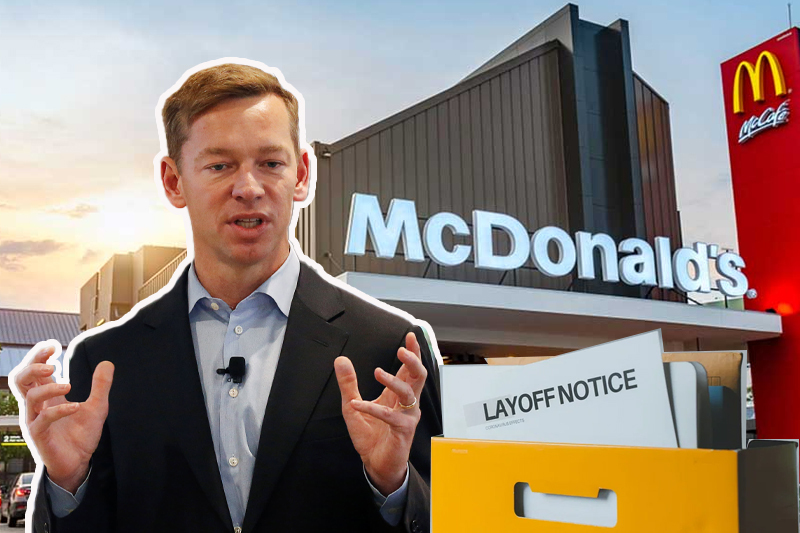 ceo of mcdonald's earned 1,189 times more than the employee
According to a company filing cited by CNBC, Chris Kempczinski, the CEO of McDonald's, received a salary of more than $10.8 million in 2020 even though the company fell short of its performance goals. Cut to 2023: In preparation for a round of layoffs, the fast food chain temporarily closed its US offices this week, according to a Sunday Wall Street Journal report.
The Chicago-based business stated in the message seen by the Journal that "we will communicate important decisions related to roles and staffing levels across the organization" during the week of April 3.
So Here's What McDonald's CEOs Get
Kempczinski received $383,000 (over Rs 3.15 crore) in additional compensation, including using the company's private jet, in addition to his base salary of $963,500 (over Rs 7.93 crore) in 2020, according to CNBC.
In the early stages of the pandemic three years prior, Kempczinski and other McDonald's employees had temporarily reduced their pay. Kempczinski's base pay, which had been reduced by half, was reinstated in October 2020 as the company's sales increased.
Without the pay cut, he would have been paid a base salary of $1.25 million, according to the report.
Chris Kempczinski might have gotten a $4.25 million performance-based bonus. Executives at the company did not receive any performance-based bonuses because they could not reach their targets for operating income growth, system-wide sales, and same-store sales.
According to the report, Kempczinski earned 1,189 times more in 2020 than the typical McDonald's employee, who took home $9,124.
Keep Reading
Kempczinski warned of the layoffs in a memo to employees in January of this year, stating that the business planned to reduce some of its corporate staff.
There will be challenging discussions and decisions in the future, he had said. "We will evaluate roles and staffing levels in parts of the organization," he had said.
"Some initiatives will no longer be prioritized at all. This will enable us to move more quickly as a company, lower our overall costs, and free up funds for growth-related investments.
Meet the CEO of McDonald's-
Chris Kempczinski, President and CEO of McDonald's
Chris leads the countless devoted McFamily members who work to make delicious, enjoyable experiences for everyone as President and CEO of McDonald's.
Chris is in charge of carrying out McDonald's Accelerating the Arches growth strategy and ensuring that the organization's values are ingrained throughout the system as the filter through which all of our business decisions are made, bringing the organization's corporate purpose—to feed and foster community—to life.
Before becoming CEO, Chris led the business operations of roughly 14,000 McDonald's restaurants across the country as President of McDonald's USA.
As Executive Vice President, Strategy, Business Development, and Innovation, Chris joined McDonald's in 2015. He collaborated closely with our business executives and franchisees in this capacity to discover fresh concepts and cutting-edge methods that would quicken system expansion.
Chris has over 25 years of experience working for top international consumer brands. In addition to holding senior positions at PepsiCo and Kraft Foods, where he most recently served as EVP, Growth Initiatives, and President, International, he started his career in brand management at Procter & Gamble.
He is a trustee of Ronald McDonald House Charities in addition to his position on the McDonald's Board of Directors. Chris is a member of Procter & Gamble's board of directors in addition to McDonald's.
Chris is a proud graduate of Harvard Business School as well as Duke University. With his wife and two children, he resides in Chicago, Illinois.