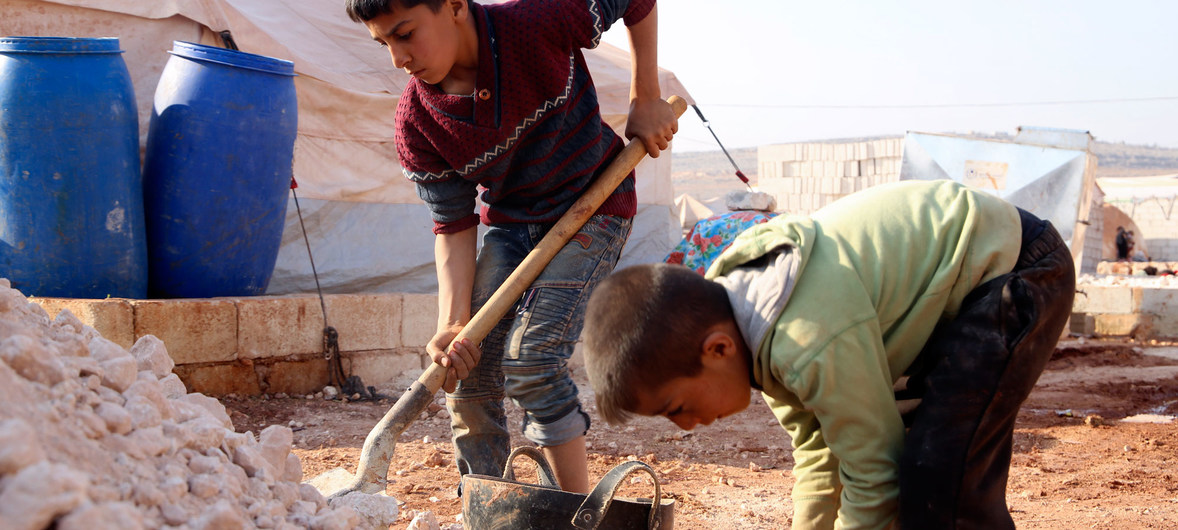 By Victoria Hudson.
The Turkish armed forces today hit 54 targets of the Syrian army in the Idlib region, neutralizing – said a note released by Ankara – 76 soldiers of the Damascus regime. This is the Turkish response to a Syrian raid on Idlib, a stronghold of the rebels, during which Ankara denounced the death of five soldiers.
It is in this climate that the civilian population suffers tragic consequences. The United Nations on Tuesday announced the displacement of over half a million people during two months of fighting and bombing in north western Syria due to the military escalation of regime forces and its ally Russia.
David Swanson regional spokesperson for the UN humanitarian office said today to AFP that 520 thousand people were displaced due to the last 2 weeks of conflict, 80% of them are women and children.
People take refuge in schools, mosques, dilapidated buildings and shops. Many live in the parks in tents, under the rain and cold: they are the children fleeing the war, six thousand and 500 only in the last week. Meanwhile, food, water and medicines are missing. Access to the toilets is very limited or non-existent. This is the case in North West Syria, where the situation "is turning into an unprecedented crisis for children", is the comment of UNICEF Director-General Henrietta Fore.
Three hundred thousand children displaced since December. Of the 900 children killed in Syria in the past year alone due to the conflict, over 75% were in the northwest. UNICEF calls on all parties to the conflict to immediately end hostilities to allow families access to the humanitarian assistance necessary for one million two hundred thousand needy children.
The greatest number of children in difficulty is in Idlib where more than three quarters of the population is in urgent need of assistance. Here UNICEF, through its local partners, is distributing hygiene kits, drinking water, vaccines for children, screening and intervening on children with treatments for malnutrition. The reconquest of Iblid by the Syrian armed forces is fundamental to return to having total control of western Syria where, moreover, most Syrians live. It also means bringing the M5 motorway back under State control, which from Jordan leads to Turkey, a fundamental artery for the Syrian economy, as well as for military supplies.
Beyond the civilian population, over 70,000 militiamen who are part of different groups are barricaded in Idlib: from Hayat Tahrir al Sham (HTS), linked to Al Qaeda, ally to the "National Liberation Front", a combination of armed gangs , which would include Ahrar al Sham, a Syrian Islamist armed formation that aggregates several other smaller formations of Salafist inspiration. Then there is another armed and trained group from Turkey made up of about 40,000 people as well as numerous so-called "dormant" cells from IS, the self-proclaimed Islamic state.For more news visit Human Rights Latest News