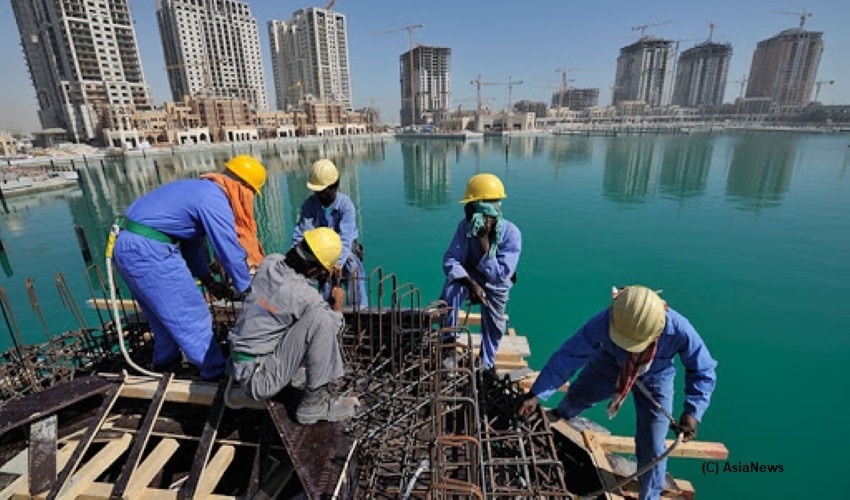 Thousands of Pakistani migrant workers lost their jobs during the coronavirus pandemic.
Thousands of Pakistani migrant workers lost their jobs during the coronavirus pandemic. The lockdown imposed to prevent the spread of the virus in the Gulf countries has forced thousands of Pakistani workers to return home to stay close to their families. It is estimated that around 60,000 of these migrant workers are unemployed today and have already registered on the Ministry of Overseas Labor platform looking for a job.
Most of these workers have returned to Pakistan thanks to special flights from the United Arab Emirates and Saudi Arabia, while at least 150,000 continue to work in inhumane conditions in Qatar on construction projects for the 2020 World Cup. The COVID-19 has spread alarmingly in labor camps in Doha and international organizations have denounced the lack of access to medical care for Pakistani workers who have been infected.
Their right to health is not respected by local authorities who continue to hide the numbers of cases and deaths among Pakistani workers. Many families have lost contact with loved ones in Qatar, which prompted several companies to open investigations and found that many workers died. The situation of Pakistani workers abroad has become increasingly difficult, while the unemployment rate in their home country has risen exponentially since the onset of the pandemic.
The lack of information often leads to Pakistani #migrant workers to pay large service fees and have their vulnerable status exploited.

The @ILO's REFRAME project is hosting information sessions on safe #migration: https://t.co/hLiOWtSM82 pic.twitter.com/AqCgHRljM0

— ILOAsiaPacific (@ILOAsiaPacific) September 17, 2020
Human rights organizations like Amnesty International have said that Pakistani workers building soccer stadiums are struggling to secure wages that have been owed to them for months, highlighting the ongoing labor issues in the small Gulf country.
Qatar's communication office said in response that the government has made significant progress in recent years to reform the country's labour system. There are still issues to overcome, including those related to the attitudes and behaviours of a small minority. "This will take time, but we remain firmly committed to the task." The office stressed last month.
Corona-Hotspot Katar: Die App für die Reichen, das Virus für die Arbeiter – https://t.co/yXOnGF3584 via @watson_news

— Amnesty Schweiz (@Amnesty_Schweiz) July 13, 2020
Over 11 million Pakistanis, mostly male from 1971-2019, left abroad for work. Over 90 percent of them migrated to the Gulf Cooperation Council (GCC) countries, with Saudi Arabia and the United Arab Emirates hosting the largest portion of Pakistani migrant workers. In South Asia, Pakistan is now the second country after India to send migrant labor overseas, the majority of which is low to semi-skilled.
The migrant workers who mostly include those who work on daily wages, are facing the most critical circumstances in post lockdown with business shut. Million are facing the direct threat of layoffs, and this process has already kicked off worldwide.