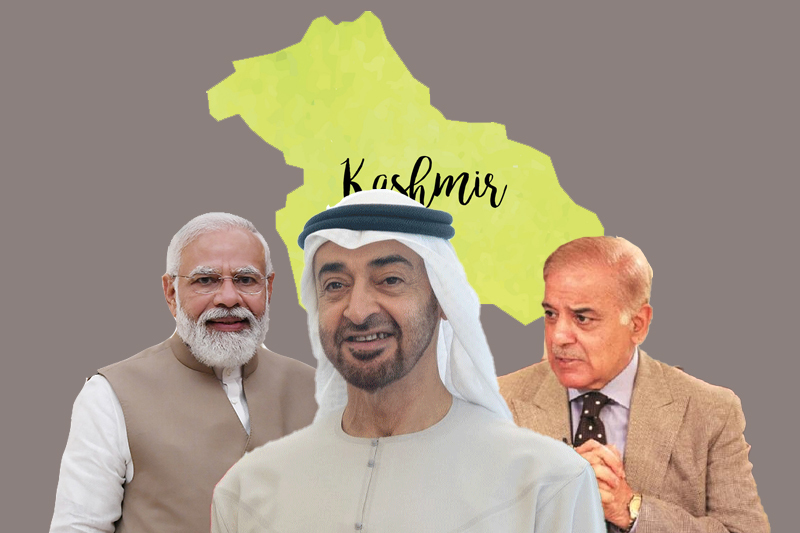 pakistan pm asks uae to mediate modi pakistan kashmir talks
With Pakistan's economy collapsing and its political crisis escalating, Pakistan's prime minister Shehbaz Sharif once again used the specter of nuclear war to induce India to talk about Kashmir as a vestige of the two-nation idea.
Prime Minister Shehbaz Sharif, unable to fight the escalating political and economic crisis in Pakistan, unsurprisingly attempted to divert the agitated home and apathetic international audience with concerns of a nuclear conflict with India over Kashmir.
In an interview with Al Arabiya TV, Shehbaz Sharif requested UAE intervention in order to convince Prime Minister Narendra Modi to discuss the so-called "hot" Kashmir problem with him in what he termed a serious and forthright way. Alternately, he stated, "We are nuclear powers, well armed, and if God forbid a war breaks out, who will survive to tell the tale?"
Sharif stated that as part of the two-nation idea, India must hand over Kashmir Valley to Pakistan; else, a nuclear war between the two nations is possible. However, the major problem of Pakistan inciting terrorism in Jammu and Kashmir was deliberately disregarded by the Pakistani prime minister, as the military and equally responsible political leadership of the Islamic Republic have been employing Pakistan's terror factory against India.
While the United States and France recognize Pakistan's role in inciting terrorism in Jammu and Kashmir, European countries only discuss the potential of a nuclear war between India and Pakistan while disregarding the terror threat posed by Rawalpindi GHQ. Based on the past utterances of PDM leaders, it is clear that Pakistani politicians across the political spectrum have a deep loathing for India and are envious of their eastern neighbor.
While External Affairs Minister S Jaishankar has made it abundantly clear that dialogue with Pakistan cannot occur until jihadist terror is removed from the bilateral equation, Pakistan's immature foreign minister Bilawal Zardari and his deputy Hina Khar have slandered Indian Prime Minister Narendra Modi at the United Nations. The "Aman ki Aasha" ecosystem or peacenik activists in India desire a conversation with Pakistan so that the conflict resolution factory on the Indian subcontinent can be revitalized.
Kashmir was not even mentioned in the bilateral statement issued during Shehbaz Sharif's journey to Dubai in search of desperately needed U.S. cash for daily existence, despite the fact that the Pakistani prime minister had requested the UAE to help the conversation with India. The UAE is an extremely close friend of India, with both countries' political leaderships in frequent contact over religious terrorism and radicalisation.
Keep Reading
The foreign exchange reserves of Pakistan are now about four billion dollars, which can cover imports for barely three weeks. Even though the Pakistan Rupee-U.S. Dollar exchange rate is being maintained by the State Bank of Pakistan, which is providing the national currency mouth-to-mouth resuscitation, inflation rates have reached an all-time high, with food shortages in all provinces save Punjab.
Tehreek-e-Taliban, Pakistan broke the truce with Pakistan Army on November 28, 2022, and has begun launching attacks in Khyber Pakhtunkhwa, resulting in an increase in deaths. The Islamic Republic's internal security situation has deteriorated since Baluch and Sindh rebel groups are active and targeting Pakistani security forces with the TTP's operational backing.
This attitude might drive Rawalpindi to escalate bloodshed in the Valley through infiltration and lone-actor assaults in response to the Pakistani prime minister's plea for a conversation on Kashmir with the Indian administration. Nonetheless, Pakistan is aware that any increase of terrorism against India will result in reprisal from the Modi government. The Pakistan Army cannot afford to create fronts on both sides of the border since the Taliban regime in Afghanistan is engaged with Pakistan over the simmering Durand Line dispute. Kashmir has been reduced to a diplomatic talking topic in Pakistan.