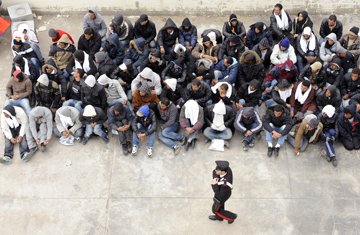 (C)TIME
Over 700 Tunisian worker migrants crossed the Ras Jedir border pass between Libya and Tunisia in masse on Monday, after remaining for days in difficult conditions trapped at the crossing due to the measures taken by the two countries in response to the new coronavirus pandemic, COVID-19. After tensions reported in the last days, the Tunisians have crossed the border incited by the Libyan militias affiliated to the Government of National Accord (GNA). The facts were documented by the staff of the International Organization for Migration (IOM) who had been providing assistance and medical aid for weeks.
Although the Tunisian Ministry of the Interior initially denied, several videos shot by the migrants themselves and posted on social networks show that over 700 people made their way through the main entrance of the Ras Ajedir border crossing by force. The Medenine governorate has taken charge of the transportation of 703 Tunisians returning from Libya to the 18 governorates of origin, after the completion of the necessary safety and health measures, said local governor Habib Chaouat. Migrants returning to Tunisia will be divided on 16 buses of the Medenine regional transport company.
According to Government official reports, Tunisian security units have surrounded the area to close the passage to the long line of migrants. These people were divided into groups according to their home governorates and subjected to police and customs checks, before being sent to their respective regions from Ben Gardenne. The Tunisian authorities have already sent reinforcements to control the situation and prevent any dangerous element from infiltrating the crowd, considering that GNA Libyan militias previously opened prisons along the west coast between Sabratha and Sormon. A security source at the Ras Ajedir crossing point told 'Mosaique fm' local radio that several people have been arrested for several crimes, for attempting the Tunisia national security or for crossing the pass without any passport or document.
During the past years, thousands of Tunisians have traveled to Libya to join the ranks of the self-proclaimed Islamic state (ISIS) and other terrorist groups active in the neighboring country, attracted by the earning possibilities offered by organizations based in Turkey, Qatar and the United Kingdom since 2011. There is concern that migrant workers who have crossed the border illegally may hide some of these foreign fighters freed from Libyan prisons by GNA affiliated forces. Tunisia has declared a state of emergency for terrorism since 2015 and several attacks continue to bloody the country, the most recent one targeted the entrance of the United States Embassy in Tunis last month. All this increases fears of new attacks on the eve of the holy month of Ramadan for Muslims.