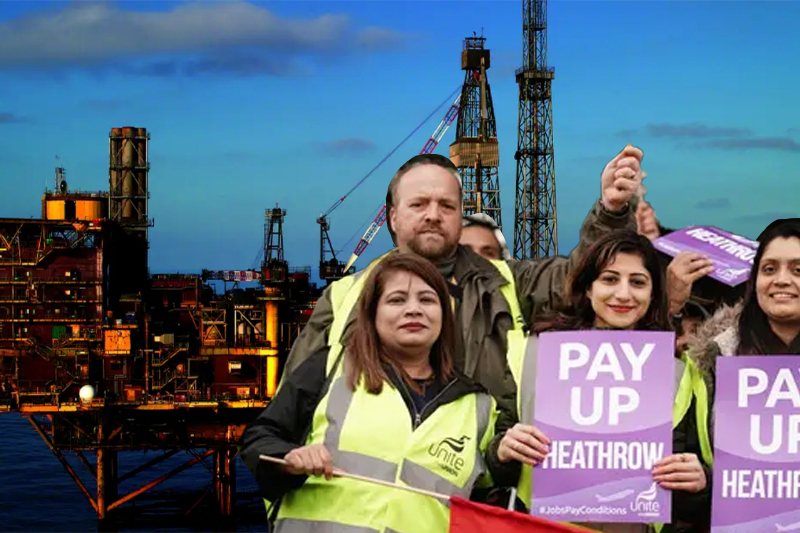 offshore employees will go on 48 hour strike over, pay issue
In a pay dispute, more than 1,300 offshore workers plan to go on a 48-hour strike.

Unite issued a warning that the walkout on April 24 will "standstill" dozens of oil and gas platforms.
A "tsunami" of labour unrest over pay and working conditions is expected in the offshore sector, the union has previously warned.

"Oil and gas companies in the offshore sector are enjoying record windfall profits," declared Sharon Graham, general secretary of Unite.

Without a doubt, contractors and operators have plenty of money to pay members a decent raise.
It is necessary to confront the extent of corporate greed in the offshore industry.
Keep Reading


With hundreds more expected to join them, 1,350 offshore workers will now engage in an unprecedented wave of industrial action over the next 48 hours.
"Unite will support all of our members in this fight for better jobs, pay, and conditions at every turn," the statement reads.

Along with the deck crew, crane operators, pipe fitters, platers, riggers, production and mechanical technicians are among the workers participating in industrial action.
John Boland, a Unite industrial officer, continued, "This is not just about pay; it's also about working rotas, holidays, and offshore safety.

The workforce has been taken for granted for years, but now that strike action will stop dozens of platforms, their value will be felt acutely.
The delivery of the Royal Navy's Type 31 frigates could be significantly delayed in the meantime as workers at a Scottish yard prepare to stop working for several weeks in their fight for higher pay.
Nearly 100 Kaefer employees at the Rosyth yard are expected to strike after overwhelmingly supporting industrial action.

In order to obtain a decent wage increase, workers are "prepared to take 12 weeks of all-out strike action," according to Unite's regional industrial officer Bob MacGregor.
The union asserted that its actions would jeopardise the completion of the $1.25 billion frigate contract at the Babcock-owned Fife yard.

According to the union's report on Friday, 98.4% of workers supported going on strike.

Workers were given a 7.2% pay raise that was below inflation after they announced their intention to strike, but Unite claimed that this offer had been turned down by employees.
The company "first refused to make any offer for months, and then they panicked following the strike vote," according to MacGregor, who also claimed that "Kaefer just simply doesn't get it." He continued, "Kaefer in turn are blaming Babcock who own the yard for this situation but it's a mess they have jointly created."

At Rosyth, it's a really poor method of handling labour disputes.
The Type 31 contract will undoubtedly experience significant delays as a result of the impending strike action.
Five Inspiration class Type 31 frigates have been ordered by the Royal Navy.
The first set to be constructed is HMS Venturer, and it is followed by Active, Formidable, Bulldog, and Campbeltown.

The 139 metre long ships will have 107 crew members when they are delivered.

Painters, cleaners, scaffolders, and support service employees are among the workers who will go on strike, and the union said they will stop working between 17 April and 10 July.

We are aware of the conflict between Kaefer and their Unite members, a Babcock spokesman said, and we'll work with our subcontractor to minimise any effects on our Rosyth operations.

"We continue to support constructive dialogue between Unite and Kaefer to reach a mutually acceptable resolution," a spokesman for Kaefer stated.

There will be no impact from any potential industrial action on the safety of our teams.