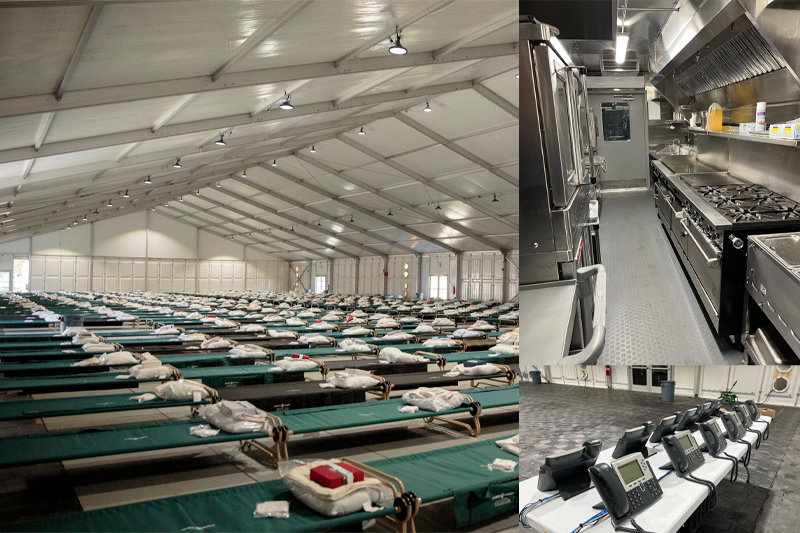 new york city opens tent shelter for bussed in asylum seekers
US – New York City has set up a temporary tent shelter to house refugees busted into the city by Republican leaders in Texas and other states ahead of the important midterm elections early next month.
The first arrivals were flown Wednesday to the Humanitarian Response and Relief Center on Randall Island, which the city says will serve as a temporary home for 500 single male migrants.
The asylum seekers were dropped off in New York City after long trips that began in Venezuela and other countries south of the US-Mexico border, which have seen an increase in arrivals in recent months.
They were brought in by bus as part of a high-profile campaign by Republican governors to draw attention to the record number of border crossings. Human rights activists slammed the buses as an inhumane political stunt.
Keep Reading
The spartan and practical NYC shelter includes cribs, laundry, dining, and telephones for residents to make international calls. "The history of this country has always been tied to welcoming those who are fleeing harm," New York Mayor Eric Adams said in a video posted to Twitter on Wednesday about the institution.
"New York City has always been a role model on how to effectively use our infrastructure to address a crisis and make sure we treat people in a humane way and that is what we have done," he added.
Texas Republican Governor Greg Abbott began taking asylum seekers to Democratic cities, including New York, Washington and Chicago, in April to protest President Joe Biden's border policies.
Abbott, who is running for a third term in the US midterm elections in November, said the campaign is aimed at sharing the burden of accommodating asylum seekers.
So far, it has bused over 3,000 migrants to New York, while the city of El Paso, which is across the border from Juarez in Mexico, has brought about 7,000 migrants to New York since the end of August.
The influx of population has put strain on New York City's shelter system, forcing officials to seek other places to house people and offer temporary tents. Families of migrants with children are accommodated in a hotel.