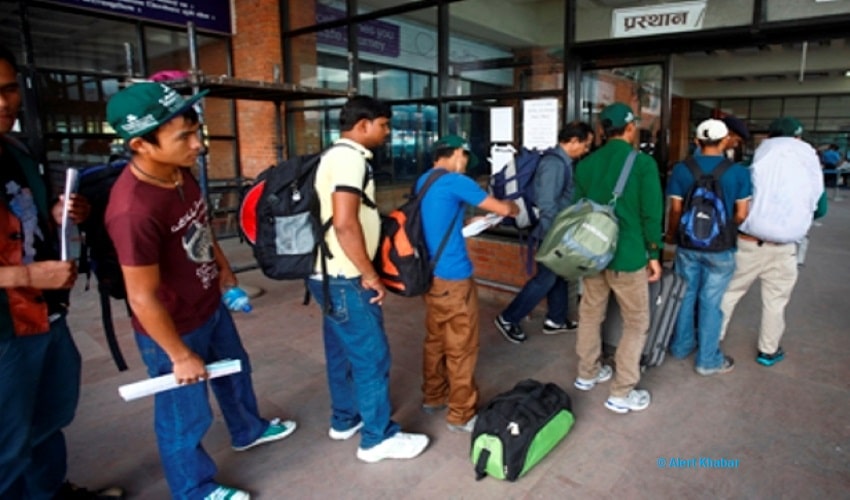 Thousands of Nepalis working abroad are set to return home, having lost their jobs to the economic fallout of the pandemic.
Thousands of Nepalis working abroad are set to return home, having lost their jobs to the economic fallout of the pandemic.
Nepal's over-dependence on remittances from its migrant population is coming home to roost with the pandemic. Money sent from its citizens working abroad accounts for 28% of its Gross Domestic Product, making it the fifth most remittance-dependent economy in the world.
Now, with the economic fallout from the pandemic, this valuable source of income is drying up. The World Bank has predicted that there will be a 20% decline in remittances globally. In addition to this, Nepal's tourism sector has also taken a big hit leading to a revision of its targetted growth rate from 8.5% to 1.5 – 2.8%.
An association of private recruitment agencies in Nepal has predicted that 20-25% of the Nepalis currently working abroad will return home due to the pandemic. Most of them are working low-income jobs and are the only source of income for their families back home. This is expected to push more families into poverty.
Stranded Nepali migrant workers protest to return home, Nepali government drags its feet https://t.co/cQaKOwf7d4 "the government seems to have limited itself to a weak information-sharing role" pic.twitter.com/rJIiMJwiZN

— Global Voices (@globalvoices) May 21, 2020
Nepalis are currently returning via air and also through the open border between Nepal and India. Entry was denied to those coming by land for a long time. It was only recently that the government opened 20 checkpoints to facilitate entry. The incoming citizens were meant to be taken to their home districts and quarantined there in dedicated facilities for the required number of days. But these facilities have not been set up due to lack of funds and personnel, according to municipal entities. Those arriving by air are being housed in 20 holding centres after which they are sent home for further quarantine.
@erDocKharel Challenges faced in #Nepal included difficulty protecting migrant workers inside and returning to the country from elsewhere. pic.twitter.com/OTTq64twCm

— American College of Medical Toxicology (@acmtmedtox) July 22, 2020
Travelling long distances and often in crowded conditions, these returning migrants are at high risk of carrying the virus. Sending them off the remote corners of the country to potentially infect others will wreck the already fragile healthcare system in the country.
In addition to this, the government of Nepal has also been lax in repatriating its citizens, many of whom are stranded abroad without jobs or money. The process started only in June and until now 25,000 Nepalis have been brought back. While priority has been given to those most vulnerable, they had also been asked to pay for their own tickets and quarantine costs. When this was challenged at the country's Supreme Court, it ordered the government to use the Foreign Employment Welfare Fund to underwrite the tickets of those returning. The government has finalised guidelines for the same and it is expected to be implemented soon.