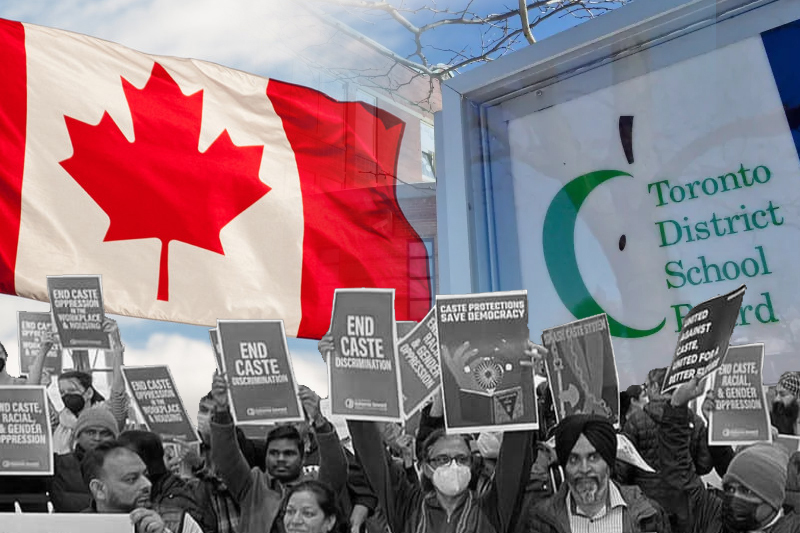 major canadian school board recognizes caste based discrimination
Toronto's school board has become the first in Canada to recognize the existence of caste discrimination, a system of social stratification from South Asia dating back thousands of years.
A motion introduced by board trustee Yalini Rajakulasingam was voted 16-5 in favor of recognising caste-based discrimination and establishing a framework to address it.
Rajakulasingam called for the board to collaborate with the Human Rights Commission of Ontario to provide safer schools that students deserve. "This motion is not about division. It is about healing and empowerment of communities," he said.
A growing trend in North America is to acknowledge and combat caste-based discrimination, as seen in Wednesday's vote.
It is not uncommon for those at the bottom of the social hierarchy to experience persistent discrimination, abuse, and violence as a result of the caste system.
Casteism has been challenged in countries with large South Asian communities, such as the US, by Dalits, also known as "untouchables".
Keep Reading
Seattle, Washington, became the first American city to ban caste discrimination in February.
A letter circulated by groups supporting Seattle's push to include caste in its antidiscrimination laws notes that casteism is a system of oppression that is very real and growing in our country and our local communities, but is not understood by most Americans.
Hindu groups have criticized the effort, claiming it unfairly maligns Hinduism and promotes bigotry.
In January 2022, the California State University (CSU) public university system added caste to its non-discrimination policy.
A Dalit activist, Prem Pariyar, told various news agencies at the time, "this policy will educate people about invisible caste discrimination and create a welcoming environment for Dalit students."
Also Read:- Breaking: Deadly shooting at Hamburg Jehovah's Witness hall