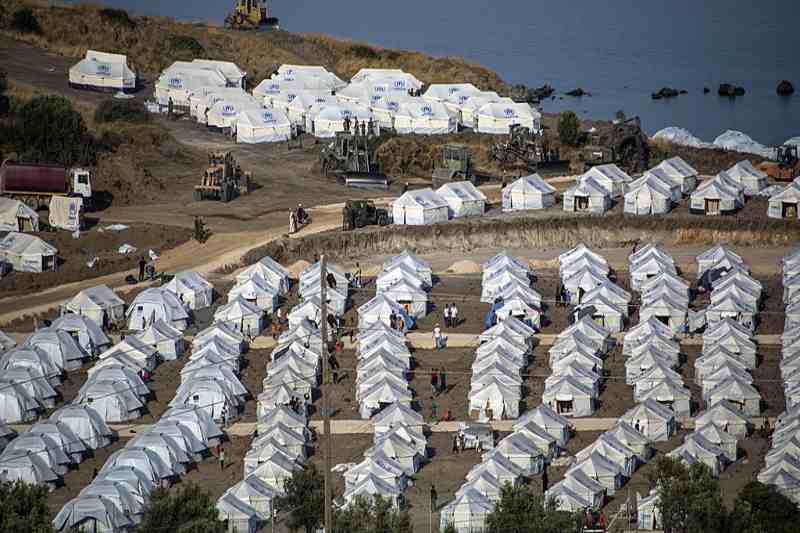 Lesbos refugee camp
Last updated on February 6th, 2021 at 07:05 am
Lesbos refugee camp in Greece is heavily contaminated with lead, posing as a potential health hazard for thousands of refugees and aid workers. According to the Human Rights Watch the emergency camp that has been established on Aegen island of Lesbos has been contaminated with lead poisoning.
The camp site which was initially a military establishment, was turned into temporary camps for refugees after fire destroyed the Moria camps. HRW has asked the Athens government to release details of tests done at the site. 
Belkis Willie, HRW's senior crisis and conflict researcher has criticized the lack of transparency around the issue by Athens and said, "The Greek government knowingly built a migrant camp on a firing range and then turned a blind eye to the potential health risks for residents and workers there. After weeks of prodding, it took soil samples to test for lead contamination while denying that a risk of lead exposure existed." After seven weeks the reports were made available, but the government is yet to allow any independent experts to carry out the tests at site. 
The current Mavrovouni camp holds temporary tents overlooking the sea, which was erected in just a few days after fire destroyed Moira camps. According to UNHCR, the United Nations' refugee agency, the camp holds 7,165 men, women and children, all of which are at risk of health hazard due to lead poisoning. The Moira camp fires had displaced over 12,500 people, 5000 of which have since been transferred to the mainland. 
Human Rights Watch, the US based group, had first raised red flag in November alleging authorities of failing to carry out required comprehensive tests for lead or soil remediation before moving the refugees to the temporary site which is funded by EU. The site was a firing range since 1926.
Athens migration ministry has admitted that out of 12 soil samples taken, one sample was found to have unacceptable limits of lead. Following the finding, ministry had assured of constructing cement base under larger tents or rub halls, and administrative and registration areas which will reduce contamination risk. Plans of new camps are in talks but have met with fierce opposition from locals, who are also against the temporary camp, which is close to the port town of Mytilene.