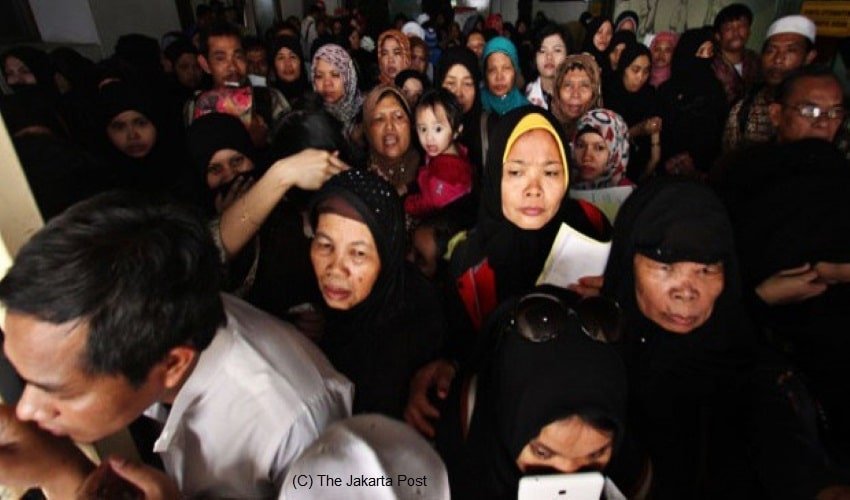 Indonesian migrant workers have been falling prey to human trafficking rackets in the Middle Eastern countries.
Indonesian migrant workers have been falling prey to human trafficking rackets in the Middle Eastern countries. Amidst the fight against Covid-19, the According to the lady diplomat in the Indonesian government, Retno Marsudi "In November, atleast 43 Indonesians were repatriated to Indonesia."
 The first lady to be appointed as the Minister of Foreign Affairs, Retno Marsudi said has confirmed while speaking to the media that, "Forty of them were repatriated by the Indonesian Embassy in Damascus, Syria, on November 27, 2020, while three others were sent back home by the Indonesian Embassy in Abu Dhabi, United Arab Emirates, on November 30, 2020."  
It is shocking to see that the migrant population that primarily comprises women has been exploited to such circumstances. While the Middle East countries like UAE, Saudi Arabia and Qatar continues to follow the Kafala system of employment in various degrees, Syria has a dilapidated government after repeated years of civil war.
Free from #humantrafficking, still behind bars. #Indonesia #Bangladesh pic.twitter.com/sO9YG6sl8n

— Amy A. Smith (@AmyAlexSmith) May 22, 2015
Ironically, Indonesia has a moratorium policy in place with regards to migrant employment in Middle Eastern countries. However, private agencies lure poor Indonesian workers and send them off to the various Middle Eastern nations. On its part, Indonesia has been trying to coordinate with the Indonesian Migrant Worker Protection Agency (BP2MI) and the National Police to catch such illicit agencies.
However, women continue to run to Middle Eastern countries through syndicates to get work as maids and caretakers. As it is, these countries are known to mistreat workers with low payrates, no leaves, threatening of punishment if they ask for change in employment, etc. Attempts of escape through water routes have been thawed at several occasion to Malaysia as well.
According to human rights group, there is a need for more robust form of control than only the moratorium policy that has not been that effective since 2015.
According to the World Bank Group, as the largest economy in South East Asia, it is also one of the poorest. Till date, out of a population of around 270.2 million, about 26.42 million Indonesians still live below the poverty line. This is one reason why women continue to get lured into taking up jobs abroad, even if that means indulging in dangerous waterway travel that means greasing the palms of syndicates and using illegitimate migrant paperwork.