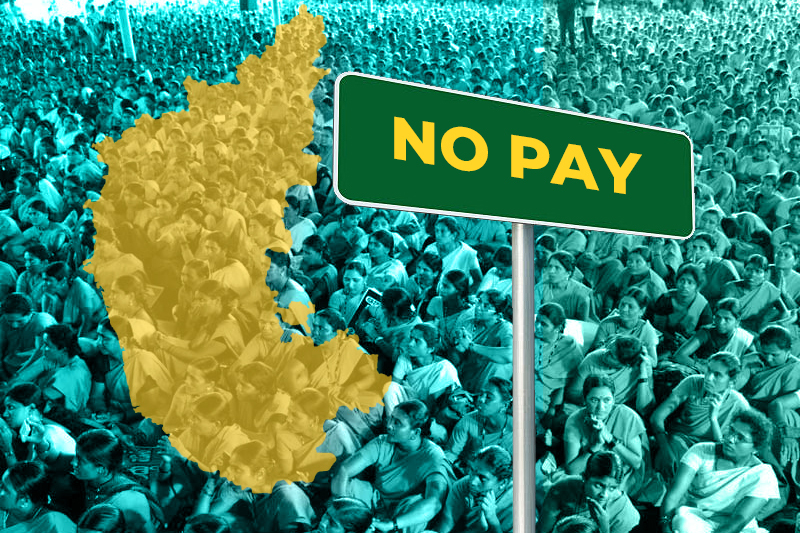 india asha workers in karnataka work without salaries for 3 months
India's more than a million ASHA (Accredited Social Health Activist) workers are recognised by the World Health Organisation as 'Global Health Leaders' for acting as a bridge between the community and the government's health programmes.
ASHAs are volunteers from within the community, primarily married, widowed, or divorced women between the ages of 25 and 45 years. According to the programme guidelines, they should be literate with formal education up to Class 8 and must have good communication and leadership skills.
The volunteers receive training to provide information and help people access the benefits of the Indian government's various healthcare schemes.
Keep Reading
However, ASHAs have long been fighting for higher remuneration, regular jobs, and health benefits. Scores of volunteers across the country have frequently been staging protests for their rights.
In a shocking revelation this month, ASHA workers in Karnataka's Kodagu have not been credited with salaries for three months. "We follow up on all our responsibilities each day … however, we are made to toil without the motivation of being paid on time," shared a volunteer from the district who has been offering services for more than 10 years now.
The non-payment of salaries is compelling the workers to take hand loans to meet their daily requirements.
"Each time we call, we are told that the salary will be credited in a day or two," the ASHA worker added.
Zilla Panchayat CEO Akash S, when questioned, confirmed, "the issue will be rectified in a day or two", blaming technical issues for the delay.
ASHAs are involved in a number of tasks, including counseling women about sexually transmitted infections and contraceptives, ensuring women undergo ante-natal check-ups, motivating children to get immunised, screening for infections like malaria during the season, and providing basic medicines and therapies.
They were a major part of the Indian government's pandemic response, screening people in containment zones, getting them tested, and taking the ones that tested positive to quarantine centers or helping them with home quarantine.