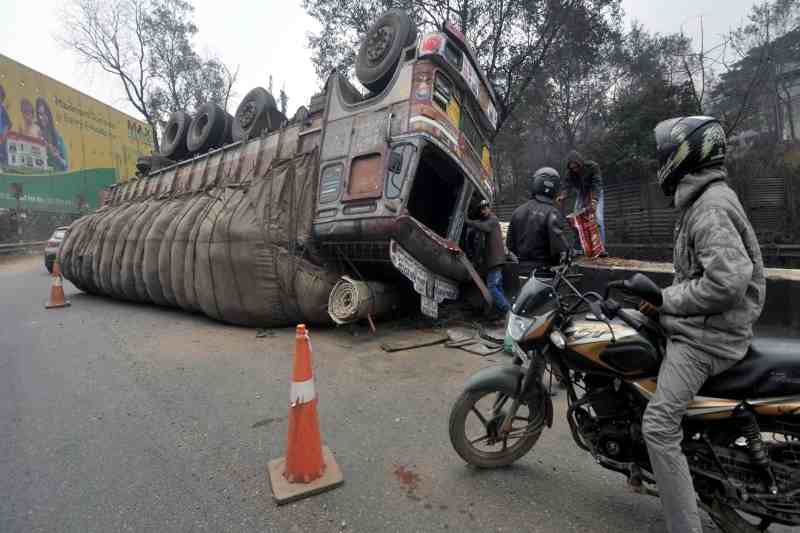 15 migrant workers crushed to death
Last updated on February 6th, 2021 at 08:47 am
In India Gujarat's Surat district, at least 15 migrant workers, were killed on Tuesday by a truck running over them, while they were sleeping. The vehicle driver has been arrested, local media reported. The occurrence took place at Kim-Mandvi road near Kosamba center, around 60 km from Surat, according to the city police. All the migrants were from Rajasthan. Twelve of them died on the spot, officials said, adding that another 3 people died in hospital from their injuries.
The Indian Express quoting Surat Deputy Police Superintendent CM Jadeja revealed that the truck driver lost control after his vehicle lightly hit an engine loaded with sugarcanes. Surat Superintendent of Police Usha Rada affirmed that the impact with the sugarcane tractor smashed the windows of the truck and this blocked the driver's eyesight, leading to the accident. Jadeja reported that the dumper driver and cleaner are injured and they are under treatment at the Surat Municipal Institute of Medical Education and Research (SMIMER) "We have lodged an offence into the incident and have started the probe," the official said.
India Prime Minister Narendra Modi described the incident as tragic. "My thoughts are with the bereaved families," Modi said, expressing condolences to the victims' families and wishing a speedy recovery to the injured. The Prime Minister also proclaimed ex-gratia of Rs 2 lakh each to the next of kin of the departed from the Prime Minister's National Relief Fund. "Rs 50,000 each would be given to those wounded," a note from the Prime Minister Office confirmed.
Gujarat Chief Minister Vijay Rupani also declared ex-gratia of Rs 2 lakh each to the relatives of the victims. Rajasthan Chief Minister expressed his sorrow. He took Twitter to say: "Deeply saddened to know many laborers from Banswara, Rajasthan have lost lives after a truck ran over them as they were sleeping near the road in Surat. My heartfelt condolences to the bereaved families and prayers for speedy recovery of those injured." The incident is just the latest in a long series involving migrant workers in India. Workers were sleeping in a makeshift accommodation, too close to the road. Despite the recommendations of the international community, in India – a strongly developing country – migrant workers continue to experience difficult conditions, especially, during the COVID-19 pandemic.