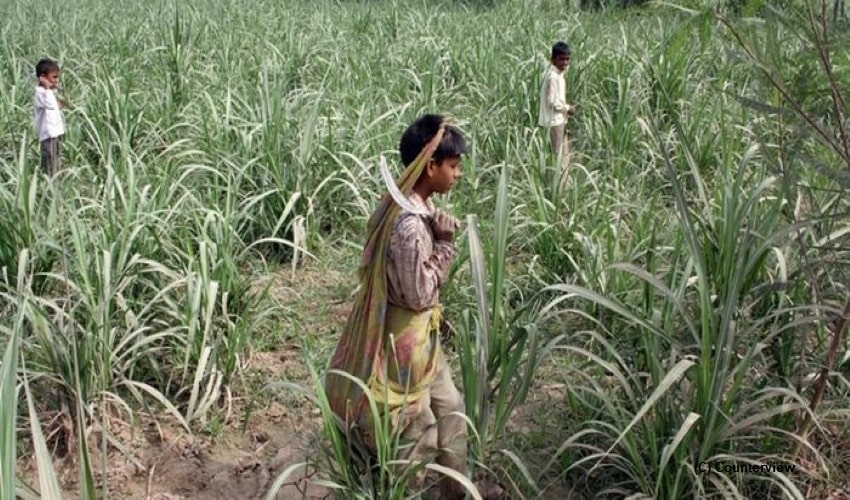 As per a report, majority of child labour working in Gujarat's sugarcane fields are not paid wages
Thousands of people migrate to Southern Gujarat to work in the sugarcane fields in the region. Many of them are children of migrant sugarcane harvesters. According to a recent report by Netherlands-based child rights organisation, Global March Against Child Labour, Gujarat has the highest number of child labourers working in sugarcane fields, adding that a majority of whom have not been paid for their work.
Examining child labour in the sugarcane supply chain in India, the report found that Gujarat has 59.2 percent of child labourers who have not been paid by their employers. Gujarat is followed by Maharashtra at 42.3 percent, Uttar Pradesh at 36.3 percent and Karanataka at 24.7 percent. In terms of paid child workers, Maharashtra has the highest figure at 27.6 per cent, followed by UP at 23.7 percent, Gujarat at 21.5 percent and Karnataka at 17.5 per cent.
These child labourers aged between 6 and 18 are engaged in various farming activities including cutting of canes to cleaning of canes with the aim of supporting their family income. They are working in a number of sugarcane fields operated by 554 sugar mills, largely in various parts of South Gujarat, the report added.
India's sugarcane industry centers around Gujarati town of Bardoli in Surat which is the home of Asia's largest sugarcane-crushing capacity and the largest cooperative society of farmers. While these cooperatives have been making efforts to reinforce the capacities of sugarcane farm owners, they are not doing enough for the welfare of the thousands of harvesters and their children working in the fields. It has been observed that these child labourers are not paid according to the minimum wage standard of the state. Furthermore, harvesters are not paid incentives for the extra labour they perform. Significantly, minimum agricultural wages paid to labourers in Gujarat are among the lowest in India.
In another report, the child rights organisation has stated that gender-based exploitations have resulted in higher rates of child labour and normalisation of unequal pay. Several young girls migrate with their families to work on sugarcane fields where they are bounded to take care of household chores in addition to performing farming activities. Due to migration, children of sugarcane harvesters never receive basic schooling and other amenities.
Girl child labourers with triple burden were found to be the highest in Karnataka (91%), followed by Gujarat (88%), Maharashtra (76%) and UP (76%)

report by Netherlands-based child rights organisation