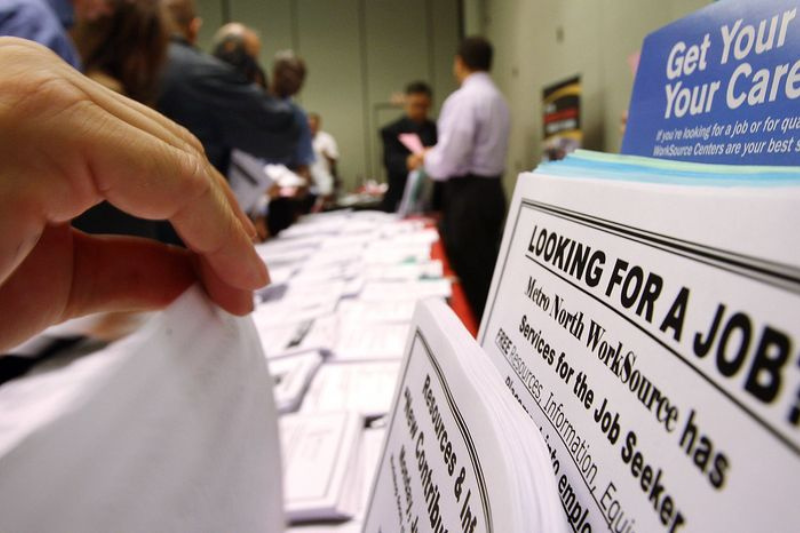 in june, us private sector created 500,000 new jobs report
According to the most recent employment report from private payroll processor ADP, which was released Thursday morning, hiring activity at US companies experienced a huge, unexpected increase in June.
In contrast to economists' predictions of 228,000 new jobs and ADP's May total of 267,000 hires, the private sector added 497,000 jobs in June, according to ADP's National Employment Report, which was created in partnership with the Stanford Digital Economy Lab.
Even though ADP's calculations don't always match up with the official federal jobs report, they are occasionally used as a stand-in for overall hiring activity. And by that standard, Thursday's spectacular increase is yet another sign that the US labor market has been adding jobs for 30 straight months when the June jobs report is released on Friday.
Although the current rate of job growth is much slower than the record 100 months of job growth that occurred between 2010 and 2019 during the labor market expansion, the current streak's strength continues to defy expectations. The above-average gains occur during a period of historically high-interest rates brought on by the Federal Reserve's response to price increases, as well as high but waning inflation.
The 1.57 million jobs added this year are the 10th highest January-to-May total in BLS records dating back to 1939. The 314,000 net job gains per month this year exceed those seen before the pandemic, including the 100 months after the Great Recession.
However, some economists predict that eventually, employers won't be able to bear the burden of these and other external factors.
At Wells Fargo, senior economist Sarah House said she anticipates a "gradual cooling" to sweep the labor market. "The jobs market is not collapsing," she asserted. But the effects of tighter monetary policy become more felt as the [pandemic] reopening draws closer. Job growth will likely slow down in line with the trend.
Economists predict that the number of jobs added in June will be lower than both that average number and the 339,000 jobs that were added in May. According to Refinitiv, the average forecast calls for a net gain of 225,000 jobs last month. (However, the 82 economist predictions that make up the consensus range widely in job size from 110,000 to 288,000).
The Refinitiv estimates, which range from 3.4% to 3.8%, predict a decrease in the unemployment rate to 3.6% from 3.7%.
Thursday's data-driven
By Thursday at noon, the economists' crystal balls may be much less opaque.
Keep Reading
June saw fewer job cuts:
The Department of Labour reported on Thursday that weekly unemployment claims increased to 248,000 for the week ending July 1.
The four-week average has trended up recently, providing yet another sign of a softening in the labor market even though the weekly claims data is highly volatile and frequently revised.
Over the past few months, headlines have been rife with announcements of mass layoffs, mostly from large tech companies readjusting after the pandemic boom. Overall unemployment claims, however, have only slightly increased and continue to be below pre-pandemic averages.
Additionally, those job losses have occurred in spurts.
According to data released Thursday morning by outplacement firm Challenger, Grey & Christmas, US employers announced 40,709 job cuts in June, the fewest monthly total since October 2022.
Nevertheless, the 458,209 layoffs announced in the first half of this year—excluding the significant job losses anticipated in 2020—represent the highest January–June total since 2009, when 896,675 cuts were made, according to the Challenger Report for June. The majority of the cuts are still being made in the technology sector.
Andy Challenger, senior vice president of Challenger, Grey & Christmas, said June is typically the slowest month for announcements. The Fed's rate hold may prevent inflation-related job losses.
A coincidental blip or increasing unemployment?
The country's unemployment rate increased sharply in May, rising to 3.7% from 3.4%. In light of the significant job gains, the sudden and sharp rise in the unemployment rate was largely unexpected.
To measure employment levels and activity, the monthly jobs report consists of two surveys: one that asks businesses about employment, hours, and earnings; and the other that asks households about demographic information and the labor force participation of the population. The latter is where the unemployment rate is found, and because it has a smaller sample size, it is frequently thought to be volatile.
While some economists emphasized the discrepancy between the two surveys in May, which showed a notable decline in household employment of 310,000 jobs, others argue that it may not have been a one-month anomaly.
"It likely ticked higher in June to 3.9% with the entry of recent college graduates into the jobs market and slowing reemployment among workers who were recently laid off," Aaron Terrazas, Glassdoor's chief economist, wrote in a commentary published last week. If this happens, the unemployment rate will have risen by 0.5 percentage points in just two months, which is a significant milestone for many economists.
A soft landing and labor hoarding:
According to recent job market data, more companies are "labor hoarding" by keeping headcounts up despite waning demand. According to House, the Baby Boomer generation's retirement from the workforce and the severe worker shortages that occurred during the pandemic recovery are two factors that have contributed to this situation.
According to her, this supports the claim that the post-pandemic economy could experience a "soft landing" with a decline in inflation rather than a sizable loss of jobs or the start of a recession.
When it comes down to it, their finances may require something different, she said, even though the intention may be to keep employees on despite everything.