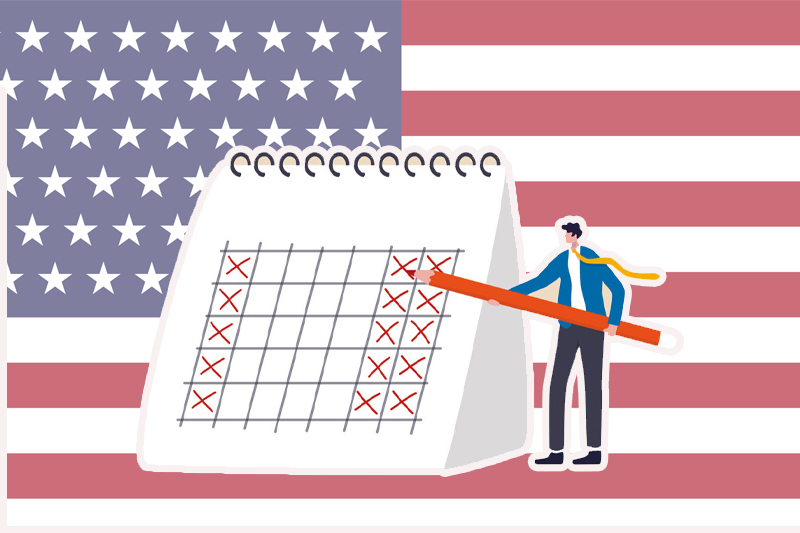 5 companies in the us that have a four day workweek
Are you tired of the traditional 5-day work week? Do you crave more time to pursue hobbies, spend with family and friends, or just relax? Well, we've got some good news for you! There are actually companies out there that offer a 4-day work week.
That's right – an extra day off every single week. So, if you're ready for a better work-life balance, keep reading to discover 5 companies in the United States that provide this amazing perk!
After observing benefits for both employees and their bottom line, many businesses in the United States and abroad that have piloted the four-day workweek won't go back to their previous schedules.
A growing number of American businesses are introducing shorter workweeks to help employees better balance their personal and professional lives. Companies have seen increases in productivity as a result of reducing the number of hours worked, which can result in higher profits or, in the case of non-profits, greater efficiency.
The types of businesses that make the switch and, consequently, the employees who would receive the benefit, are two factors that have not been mentioned in the discussion of the four-day workweek. Consider the widely reported study by the research organisation Autonomy, which examined pilots for sixty-one firms and found that 92% of them said they were "continuing with the four-day week." But when examining the companies included, very few were in the marketing/advertising (18%), professional services (16%), charity/non-profit administration (11%), IT & telecoms (9%), educational services (9%), finance and insurance (9%), or healthcare or social assistance (9%) sectors (9 percent). A racialized element to the types of workers who are being offered such a benefit is also highlighted by the fact that 90% of the study's participants were "White British or White Other."
Which 5 US companies offer a Four-day workweek?
Amazon
The e-commerce behemoth Amazon is also testing a four-day workweek with a hybrid remote team, which excludes people who work in warehouses or delivery. It's interesting to note that the layoffs announced by Amazon in recent months have come from the corporate division of the business rather than the warehouse and distribution division. The latter group of employees is the real source of value for Amazon because without them, the business could not run. The exclusion of these workers with lower salaries from these programmes, which have been shown to have significant positive effects on one's mental and physical well-being, is a sign of the larger exclusion of low-wage, less professionalised workers. It is evident that these employees won't receive a schedule reduction if the benefits do not result in higher profits.
Bolt
According to Bolt, a fintech company, they are working to "make Fridays more like Saturdays or Sundays" by providing "genuine time off, with no scheduled meetings or work."
An American financial technology start-up called (Bolt) offers software to retailers to enable one-click online checkouts. It was established in San Francisco in 2014.
Buffer
The social media software company Buffer adopted a four-day workweek in 2020 and kept it after realising how it improved the workplace climate while maintaining productivity. Nicole Miller, the director of people at Buffer, noted that "91% of our team are happier and more productive working four days a week" in 2022 when reflecting on the change.
Keep Reading
Basecamp
Basecamp, an online service that aids independent musicians in promoting their work, has instituted a four-day workweek for its staff from May 1 through August 31.
Advocates for Children A nonprofit organisation called Advocates for Youth helps young people make informed decisions about issues like racial justice, access to abortion, and other topics. In an effort to hire qualified professionals in the nonprofit & philanthropy, HR & recruiting, operations, and administrative career areas, the organisation has in the past hired for 100% remote jobs. Qualified candidates are given "flexible compensatory time" after being hired, along with a benefits package that includes healthcare insurance, long-term disability insurance, a 403(b) retirement savings plan, professional development assistance, and a student loan repayment programme. The company seeks employees who are enthusiastic about promoting "every aspect" of young people's sexual and reproductive health and rights.
Advocates for Youth was founded in 1980 with the goal of utilising the power of youth as a group. Since then, it has focused on "ensuring that the rights of all young people are respected." Among other youth-related issues, core areas of focus include access to abortion and contraception, HIV, sexual violence, LGBTQ health and rights, youth leadership and organising, and racial justice and intersectionality. Aiming to achieve sexual health equity for all young people, Advocates for Youth works with youth leaders and other organisations that support youth to support programmes and policies that offer "honest" information about sexual health, affordable, private sexual health services.
Kickstarter
Kickstarter is a crowdsourcing website with headquarters in Brooklyn, New York, that aims to transform how artistic projects are financed globally.
Since its founding in 2009, Kickstarter has raised more than $6 billion in pledges to support more than 200,000 artistic endeavours in a variety of fields, including technology, dance, music, film, journalism, video games, and more. As an employer, Kickstarter has previously provided full-time, part-time, and fully remote employment opportunities. Benefits include health insurance, a 401(k) plan with company match, as well as education and wellness stipends, which are available to eligible roles. Anywhere the business is registered as an employer, all full-time team members are permitted to work entirely remotely. All full-time employees are eligible to nominate organisations and serve on the committee that ultimately decides how much of the company's annual profit after taxes is donated to organisations that support arts education and combat systemic racism.
The goal of Kickstarter is to "support the realisation of creative projects." The business takes pride in being a space where creators can present their concepts to the funding communities. The clients of Kickstarter range from well-known institutions like the Smithsonian Institution and TLC to small-scale clients working to produce vinyl records for meditation. The organisation wants to make it simple for creators to maintain complete control over their work without having to deal with drawn-out grant applications, hurried investor edits, or other difficult challenges. Worldwide, more than 21 million people have contributed to the funding of Kickstarter projects. Since its inception, Kickstarter has been referred to as "the people's NEA" by The New York Times and one of Time magazine's Best Inventions of 2010.
Sum Up
Companies across the United States are starting to adopt four-day workweeks, which is great news for employees looking to get more balance between their work and personal lives. With companies like Microsoft, Starbucks, and InVision leading the way in this trend, it's likely that we will see more businesses jumping on board with four-day workweeks in the near future. Working fewer hours doesn't have to mean sacrificing productivity – as these five companies have already proven – so if you're interested in having a better quality of life while still maintaining your career goals, then a four-day workweek might just be what you need!