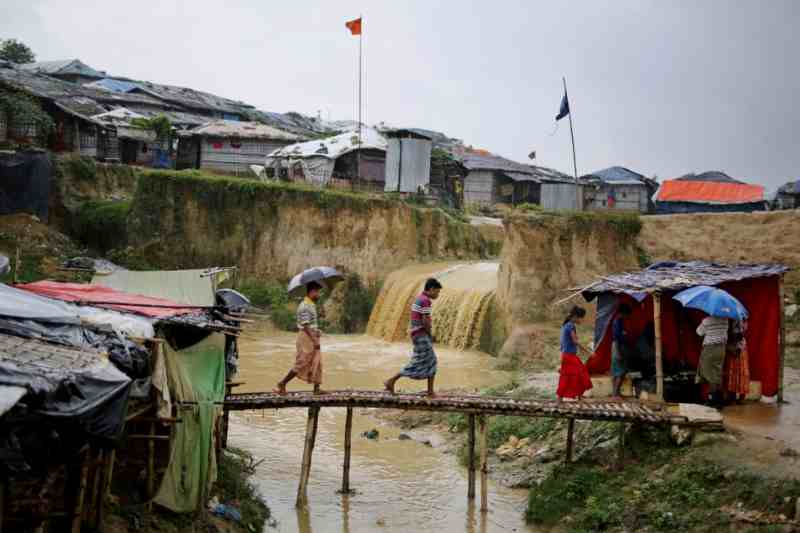 Rohingya refugee camps
Rohingya refugee camps: Thursday morning Rohingya refugees living in camps in Southern Bangladesh woke up to a catastrophic scene of their homes being destroyed by massive fire. The United Nations Refugee Agency (UNHCR) shared that the fire led to either complete or partial destroying of over 550 shelters in the refugee camps, that were home to at least 3,500 people of Rohingya community. The blaze also destroyed 150 shops and a facility of non-profit organization. 
A Rohingya refugee in Nayapara Camp in Southern Bangladesh shared heart-wrenching photographs and videos with Reuters that showed Rohingya families searching for their salvageable belongings, sifting through the charred area. But nothing is really left of the decades old camps apart from lone standing concrete poles.
Refugee Mohammed Arakani said, "Everyone is crying. They lost all their belongings. They lost everything, completely burned down, they lost all their goods."
UNHCR is providing shelter, meals and winter clothes to all the displaced from camp fire in Cox's Bazar district. The region is no more than a sliver of land situated in southeastern Bangladesh, bordering Myanmar.
No casualties have yet been reported and the security personnel are investigating the cause of fire with cooperation from authorities.
Deputy Bangladesh government official, Mohammed Shamsud Douza, who is in charge of refugees said that the fire services spent close to two hours to put out the rapidly spreading fire. But the efforts were slowed down due to gas cylinder explosion in houses.
Last few weeks saw humanitarian crisis involving Rohingya refugees that attracted mass criticism from across the world and human rights activists. Thousands of Rohingya people were moved to remote island by Bangladesh government. Human rights groups protested the move arguing that the relocations are forced.
Majority of Rohingyas fled Myanmar in2017 trying to escape military led crackdown with intent of carrying out genocide, according to the UN. The charges have been denied by Myanmar. Now over million of Rohingya people are living in camps in southern Bangladesh.