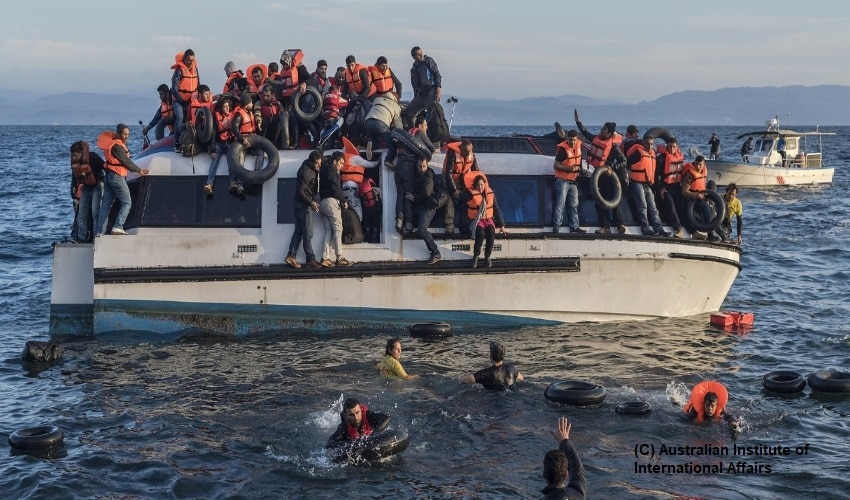 The great migrant crisis of 2015 had witnesses thousands of people dying in their quest of a safe country to migrate and live a better life. In 2015 alone 3030 people were believed to have died between January and August.
The great migrant crisis of 2015 had witnesses thousands of people dying in their quest of a safe country to migrate and live a better life. In 2015 alone 3030 people were believed to have died between January and August. The death toll till date in 2020 is much lower but still is gut-wrenching. Mediterranean region is seeing people drowning on a daily basis as they are trying to reach Europe, in tube boats that are not able to stand the harsh waves and dangerous climate of spending days to weeks together in the water. According to the International Organization for Migration (IOM) so far this year around 554 migrants have succumbed in the Mediterranean.
It all started with the Syrian war in 2011. Turkey became the waiting room of migrant crisis with its border sharing with Syria, Greece and Bulgaria. Italy was under limelight for migration issue due to its closeness to North Africa, which made it a favorable location to come through Mediterranean. The quest to live a safe life with dignity and respect led thousands to flee the war-stricken zone and travel to Europe, the land of hope, risking their very lives they wanted to save. Somehow crossing Mediterranean in small crowded boats seemed a "safer" idea than staying back home and living each day amid war and raising children there.
Just looking at Syrian refugees, Turkey has by far taken the most, at 3.5 million. Followed by Lebanon, Jordan and Germany (800k). The UK took around 10.5k, fewer than Greece (55k), Belgium, Bulgaria and Serbia.
In the wider migrant crisis, including Syria, see image. pic.twitter.com/Jx219eCzkp

— Alison Demmer 🕯 (@alid1973) November 9, 2019
In 2015 there were series of crowded boats flooding the Mediterranean, carrying people much more than their capacity, and definitely not capable to withstand the long journey. The deadliest month in 2015 was April that saw around 1500 people die. With a single boat capsizing off the coast of Libya 800 people were left to be drowned. This year out of the 554 estimated people to have died, the majority number of 395 have died in the Central Mediterranean, mostly during their sail from Tunisian and Libyan coast. IOM further estimates 71 people to have died in Eastern Mediterranean and 83 in Western Mediterranean. Location of other five isn't confirmed yet.
In 2019 there were clashes between European Union governments of whether the rescue operation of migrant refugees off the Mediterranean were actually encouraging more people to take up the risky journey and hence causing a massive influx of human trafficking. This led to suspension of EU-led naval patrols in the region that were aimed at rescuing the migrants. Italy and Malta have been the highlighted countries who have refused to let migrants-laden boats to dock at their ports.
Greece had witnessed a huge influx of migrants from Turkey in 2015 – the journey between Greek islands and Turkish coasts being short but perilous. In 2016 there was an agreement made between European Union and Turkish government under which the Syrian refugees were sent to Turkey who came to Greek islands. Turkey received €6bn in return as EU aid for migrant refugees. In February 2020 however, Turkey began allowing some refugees to cruise for Greece. Turkey President Recep Tayyip Erdogan cited the reason that the country was unable to cope with huge influx of Syrian refugees.
Thousands of migrants have entered Greek islands of Eastern Aegean. Many have also ended up in camps on Samos, Leros, Kos, Lesbos and Chios. The wait is months long for asylum applications to get processed by Greek government.
"I don't feel like I'm human here" – the plight of refugees on Kos Island #Greece where 4100 #refugees dwell. Kos Island has received little attention and funding/support since the beginning of the migrant crisis to Europe. https://t.co/5T7gK4q5PD

— Madison (@madisonpmarks) January 18, 2020
The initial huge spike of migrants crossing over the Mediterranean in 2015 to reach Europe hasn't been repeated till date, lesser people are taking that leap now. Furthermore, the numbers have been substantially smaller in subsequent years with seasonal fluctuations, as traffickers take advantage of calm sea in summer months.
Migrant surge came in just two months after Germany Chancellor Angela Merkel opened the country for migrants in October 2015. The declaration was "Wir schaffen das" – we will manage it. This led to over a million entering Germany. This was fairly unpopular among Merkel's supporters and opposition party. Though Merkel stood by her migrant policy, she ensured that same situation must not be repeated.
Since 2018, there has been a rise in attempts to reach UK by crossing English Channel by sea in dilapidated small boats. In 2020 alone 4,500 people have crossed the Channel in 350 boats.
The crisis is both humanitarian and political with massive influx of migrants. The Europe's struggle to respond in an effective manner has only deepened the crisis. While some countries have opened their hearts and borders to the people, others have erected a prickled fence to keep them out. Thousands die every year – some drown, some succumb to harsh weather and some to hunger – men, women and children alike.