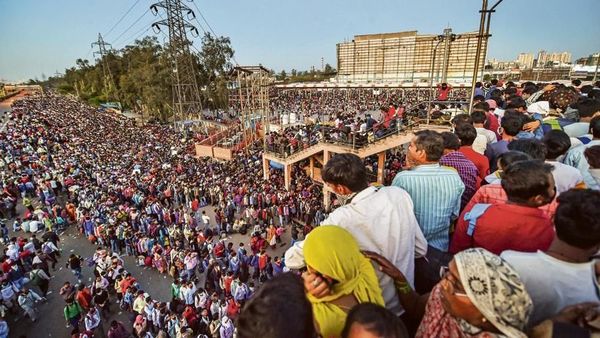 (C)livemint
With the maximum countries under lockdown in the wake of the Coronavirus pandemic crisis, the worst-hit are the workers who left their hometowns in remote villages and travelled to urban sectors in search for daily earnings. These migrant workers and wage labourers have become crucial lifeline for the working of other sectors over the period of time. However, vast number of countries under lockdown due to the Coronavirus pandemic, these workers, who are largely without any regular income or social security, are at more risk in loss of their livelihood.
According to the United Nations, as a result of the pandemic and subsequent lockdown, more than 25 million jobs could be lost across the globe. Fall in the global employment level also suggest large income losses for workers by the end of the year. The pandemic has had serious and long-lasting ramifications on job security and economy.
In an assessment report submitted by the International Labour Organization (ILO) to the United Nations, the agency has called for coordinated and urgent measures to protect the rights of the workers, supporting their jobs and incomes and stimulating the economy.
In India, Prime Minister Narendra Modi announced a 21-day lockdown leading to closure of industries, businesses and social movement. A day after the lockdown was announced, a sea of migrant workers from across the nation, with no jobs and money in their hands, took the roads in an attempt to return to their rural homes.
In the aftermath of this mass migration, estimates based on the data by National Sample Survey (NSS) and Periodic Labour Force Surveys (PLFS) suggest that approximately 136 million non-agricultural jobs have become vulnerable to immediate risk in India alone. Notably, daily-wage earners or casual labourers come in this group.
While there is a section of employees in service sectors who are able work from their homes during the global quarantine, people who cannot work from their homes in other sectors are facing serious employment crisis. From tourism to manufacturing sector, from entertainment sector to trading industry, from daily wage labourers to migrant workers, a lot of businesses have become the target of the ongoing virus crisis, which has changed the job market since the outbreak.
Keeping in mind the uncertainty of the aftereffects of the COVID-19 pandemic, it will be difficult to ascertain how the workers will make a recovery of their livelihood.