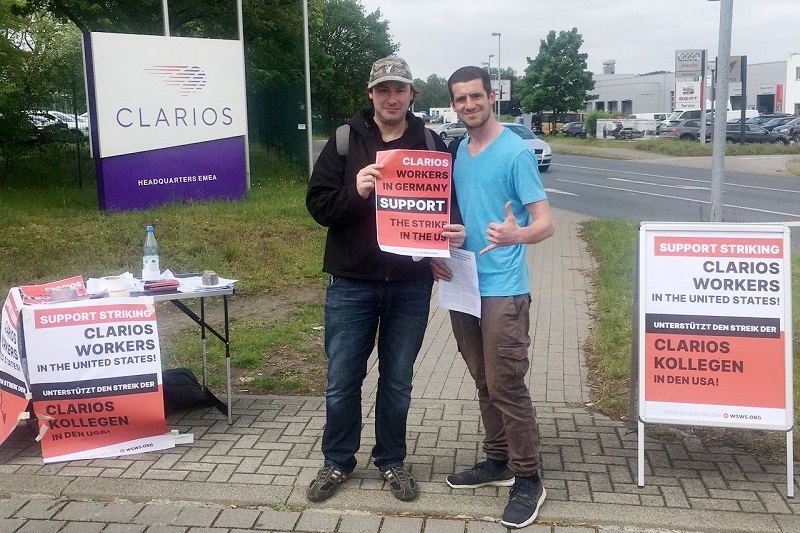 clarios workers in germany support ohio workers strike, why.
When journalists spoke with employees at the Clarios factory in Hannover, Germany, they learned that the heroic strike being led by their American coworkers in Toledo, Ohio, had their support.
US employees have been rebelling against the company for more than two weeks. A second concessions contract reached by the United Auto Workers was recently rejected by them; 76 percent of them voted "no." The company's European headquarters and the biggest battery plant for automotive applications in Europe are both located in Hanover.
A press release from the International Workers' Alliance of Rank-and-File Committees (IWA-RFC) describing the Clarios strike as a strategic dispute in the overall struggle of auto workers was distributed to the media. All employees are urged to establish action committees to support and grow the strike.
Actemium Cegelec, a Clarios contractor that installs and maintains industrial equipment, employs Michele and Alex. In addition to supplying electricity to other areas of the plant, we are currently constructing a new line for Clarios, said Michele. He claimed that the most recent increase in food costs is "quite frankly fatal" for him because "I have two children to support." The pay raises that the unions agreed on are "in the end just a drop in the bucket; they don't even cover inflation," Michele said.
"It would be something if you could at least receive a rise that was equal to the inflation rate. But things don't work like that. Although there is talk of inflation returning to normal levels, prices for necessities like food and heating remain significantly higher.
Keep Reading
The US workforce's decision to resist attempts to lower their purchasing power and living standards "is understandable in my opinion," Michele said. It's good that they are battling for it. They should get what they ask for. Some situations are worse than America.
Many of the employees at the Hanover location work for subcontractors or alleged "outside companies." Many are long-term temporary employees who endure especially risky working conditions.
Metin works temporarily as well. "I will be immediately kicked out if I do anything inappropriate," he claims. Many temporary employees are working here. They deliberately do this so they can keep us down and expel anyone who doesn't fit their agenda. For years, the unions in this place have done nothing but profit.
According to interviews with several temporary workers, the news last week covered the potentially lethal working conditions. The plant's inadequate safety procedures and high lead exposure during battery production were cited by workers as the cause of serious accidents.
Metin corroborated these reports and said that some areas of the factory were "poisoned to the point of no return." I'll hang one of your posters inside, he then said.
Brief Intro Of Clarios Workers in Germany:
The Johnson Electric Service Company, now known as Clarios, was established in Milwaukee, Wisconsin, in 1885. Johnson Controls became the industry leader in American automotive battery production in 1978 after acquiring Globe Union, a firm well known for its innovations in battery design. With the sale of its Power Solutions business to Brookfield Business Partners in 2019, Johnson Controls created Clarios, a new chapter for an established global leader in advanced energy storage solutions.
The most cutting-edge battery technologies are produced by Clarios for almost all vehicle types. One in three vehicles on the planet are powered by our energy storage solutions, which are the best in the world. We collaborate with our clients to create smarter solutions that improve people's lives.