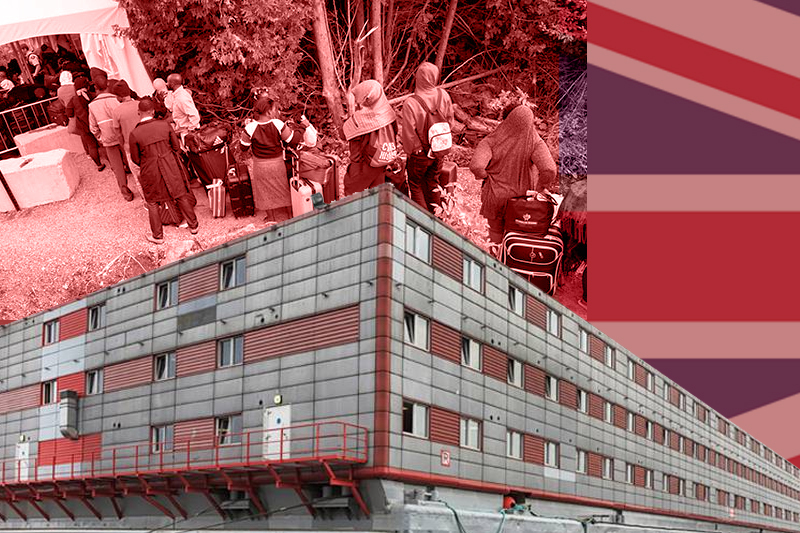 bibby stockholm massive barge set to fit in 500 asylum seekers reaches uk
A huge barge set to house 500 asylum seekers has been towed from its former berth in Italy to Cornwall's port of Falmouth as part of a wider British government push to move migrants out of hotels, which are currently sheltering over 47,000 people at a massive daily cost of £6 million.
Nevertheless, the migrants will potentially not be transported onto the barge until July, while works are carried out for safety checks and to increase its capacity. The Bibby Stockholm will remain in Falmouth until the end of refurbishments, before being moved to Portland, Dorset.
The private operators of the port signed a deal with the Home Office to host the barge without any formal public consultation, drawing flak from the local council and residents.
Moreover, Conservative MP Richard Drax previously told The Independent that legal action was still being considered to stop the government's plans for what he labelled a "quasi-prison".
He accused Home Office officials as well as ministers of not being able to offer answers to certain practical questions, such as how sufficient healthcare will be ensured and how the asylum seekers will be able to safely move to and fro through the port.
Keep Reading
The news agency had previously elaborated on how migrants will be provided less living space than an average parking bay on the barge, which saw reports of rape and abuse, and death of at least one person, when it was used by the Netherlands to detain migrants in the 2000s.
An official brochure from owner Bibby Marine shows there are just 222 "single en-suite bedrooms" on the barge. In order to help the government achieve its target of holding 500 people, at least two migrants need to be crammed into every cabin.
In addition to the barge, ministers are also looking to transform several former military and government sites, such as an empty prison and two defunct airbases, into asylum accommodation. But legal actions could threaten the process.
56,000 people are expected to reach the UK on small boats in 2023, a barrister representing Home Secretary Suella Braverman told the High Court last month, adding some could become homeless if hotel spaces aren't found.
A major backlog of asylum applications, caused by an increase in Channel crossings and a collapse in Home Office decision-making, means the British government needs to provide accommodation for a longer duration while asylum claims are being considered.