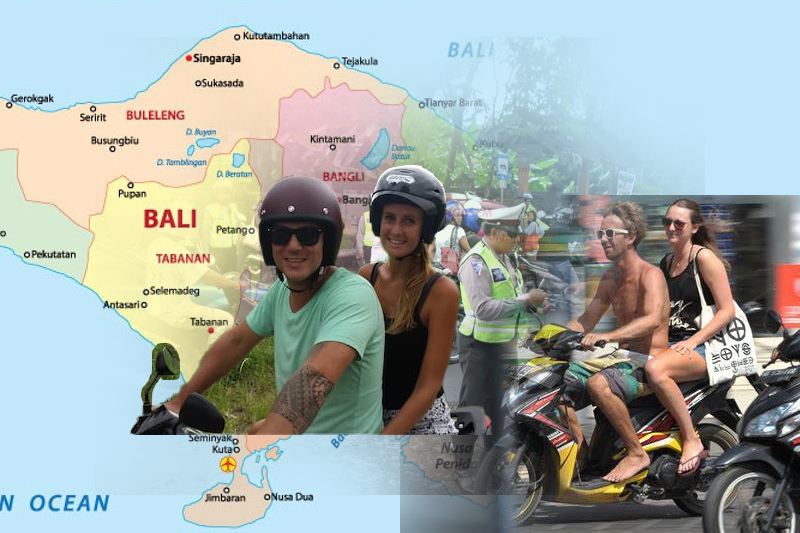 are there restrictions on foreigners driving their cars in bali
Bali: With remarks made by Governor Wayan Koster during a news conference on Sunday, March 12, 2023, held at the Ministry of Law and Human Rights headquarters in Denpasar, efforts by government authorities in Bali to rein in outrageous and disorderly behavior by international tourists started a new chapter.
The Governor went to great lengths to clarify that his administration was not responding to media and social media coverage of misbehaving foreigners. Instead, he had been quietly and discretely accumulating evidence and planning future enforcement steps for some time.
Governor Koster reiterated at the press conference his aim to rid the Island of Bali of "unhealthy" conduct. According to Koster, some international visitors' boisterous behavior is upsetting other travelers who want to vacation in Bali.
Keep Reading
New Regulations for Bali Visitors
According to RadarBali.com, the Governor has announced new rules requiring international visitors to use a Bali travel agent's services to book local transportation. Moreover, Koster stated that it is now unlawful for foreign visitors to hire motorbikes and use them while on the Island.
To End: Visa-on-Arrival for Russian and Ukrainian Citizens?
The governor declared that he had written to the central government in Jakarta to request that the visa-on-arrival program for citizens of Russia and Ukraine be discontinued. And I'm sorry, too. This (activity) is not a response to popular videos and news stories, and they haven't had an impact on us either. Since the COVID pandemic, this has been an ongoing project. Actions have been taking place for months, and this work has been done covertly, so it cannot be hastened.
The Governor has previously requested that the visa-on-arrival (VOA) option be removed for visitors from Russia and Ukraine in a letter to the Ministry of Law and Human Rights that was also copied to the Minister of Tourism. He said that after further talks with the Central Government, it will be decided whether or not other nations should also be denied access to VOA. In light of the continuing hostilities between Russia and Ukraine and the necessity to limit non-tourist trips, Koster supported the decision to cancel the VOA for those two nationalities.
Governor Koster clarified his goal by saying: "I have written to the Ministry of Justice and Human Rights (Kemenkumham) with a copy to the Minister of Foreign Affairs (Kemenlu) seeking to cancel the VOA facility for Russians and Ukrainians wanting to visit Bali.
Limitations on Driving
The Governor stated that new regulations prohibiting foreign visitors from operating motor vehicles have been implemented due to the chaotic way that visitors drive in Bali and the fact that many do not possess the necessary driver's license (SIM). Koster urged all visitors to Bali to conduct themselves in a lawful and orderly manner while also abiding by Indonesian regulations and showing respect for all local cultures, particularly those on the island of Bali.
"Tourists must act like tourists and utilize automobiles provided by travel agencies," Koster stated. It is prohibited for tourists to drive themselves or a motorbike while not wearing a shirt or a helmet. Also, they are in significant legal breach because their driver's licenses are invalid.
The numerous businesses in Bali that hire motorbikes and self-drive cars will likely object to the governor's decision.
Identification Cards KTP
Regarding rumors of foreign nationals possessing authentic Indonesian identity cards (KTP), Koster stated that there is still an open police inquiry into these occurrences. The Ministry of Law has decided against deporting foreign nationals who own KTPs while the formal investigations are still ongoing. Koster continued, "The inquiry into KTP forgery is currently ongoing." He emphasized that the rapid expulsion of particular people would thwart police attempts to track down everyone implicated in the document forgery.
Anggiat Napitupulu, the head of the Bali Kemenkumham Office, claimed in a separate interview that he saw the Governor's letter asking for the cancellation of visas for Russians and Ukrainians as a proper step made by the head of the province to protect Bali. Anggiat said that although the Central Government was legally responsible for visa facilities, the Province Governor's suggestions would undoubtedly be taken into account by the Minister of Law and Human Rights.
The Minister of Justice and Human Rights makes decisions about VOA facilities after consulting with the Ministers of Foreign Affairs, Tourism, and Regional Governments.
The list of 72 nations that offer visas-on-arrival (VOA) to travelers includes Russia and Ukraine. Nine international airports, eleven seaports, and four border crossing points are open to citizens of these 72 nations.
Also Read:- Iraq's 'authoritarian' alcohol ban a boost to black market and blow to minorities