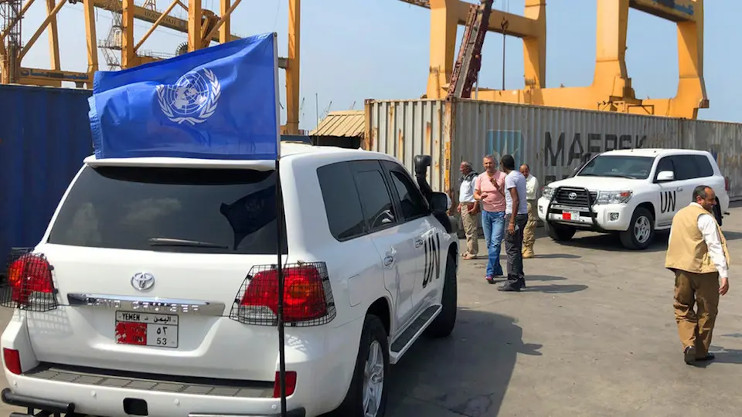 (C)Alarabiya
The Houthi militia blocked a United Nations' ship docking in the port of Hodeidah, in western Yemen, with the United Nations Mission in Yemen aboard and stopped it from leaving for the second time.
According to the official Yemeni news agency, the ship was scheduled to sail at six in the morning to the Mukha port to deliver the government officers' team.
The government team has been demanding the United Nations mission to send back the officers since the government team suspended its work with the mission on the 11th of this month after the Houthi militia targeted one of the oversight officers (Colonel Muhammad Al-Sulayhi) of the government team on March 11 with a live bullet from the militia sniper.
The head of the government team in the Redeployment Coordination Committee, Major General Mohamed Aida, carried the United Nations Mission Security and Safety of government team's officers… calling on the mission to take the correct measures to ensure the impartiality and freedom of the ship.
The government team announced on March 11 that its liaison officers were withdrawn from the UN control points for the ceasefire in Hodeidah, after targeting the Houthi militia, one of the UN-supervised control points, which resulted in the injury of the liaison officer in the government team, Colonel Muhammad Sharaf Al-Sulayhi, at the headquarters of the Fifth Control Point in the city of Hodeidah.
As of now, there has been no statement from the United Nations Mission to Support the Hodeidah Agreement on these developments, or any comment since the government team withdrew from the control points.
The government team in the Joint Committee held the United Nations Mission responsible for this Houthi breach, which targeted the points of liaison officers supervised by the International Committee to monitor the ceasefire and reduce the escalation in Hodeidah headed by General Abahigit Juha, who had previously ignored many of the government side's complaint about the exposure of their members At the engagement points.
Houthi revolutionary militias have previously targeted observation points and UN missions in Al Hudaydah, in light of a clear international backlash over these violations.
The UN Monitoring Committee put five points of attachment at the end of October in order to monitor the ceasefire in the city, which Houthi militias have not committed to since the entry into force of the UN truce in accordance with the Stockholm Agreement in December 2018. The Yemeni legitimate government stipulated a number of guarantees and procedures for the government resumption work team at the UN-supervised ceasefire points in Hodeidah, including the transfer of the UN mission headquarters to a neutral location, and the obligation of the Houthi militia to allow the work resumption of the United Nations patrols suspended since October, opening safe humanitarian corridors in Hodeidah, and lifting restrictions on the movement of the head and members of the United Nations Mission.