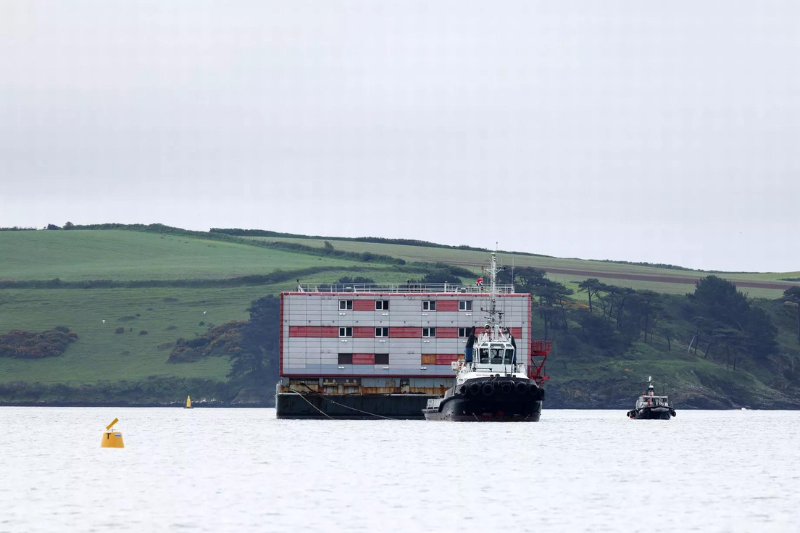 a beacon of hope the giant barge en route to provide shelter for hundreds of asylum seekers
After being re-fitted in Falmouth, the Bibby Stockholm has departed and is being towed to Portland, Dorset, where it will house 500 migrants. A month ago, it would have arrived.
A massive barge that will house 500 migrants has departed its dock in Cornwall and is sailing towards Dorset.
The Bibby Stockholm departed from its berth in Falmouth with plans to be towed to Portland, Dorset. In May, the 305-foot barge was brought into Cornish waters for inspection and maintenance.
The 10,659-ton, 222-cabin mega-vessel from the 1970s was scheduled to arrive in Portland a month ago despite opposition from the city council and Tory MP Richard Drax. However, the barge's construction was behind schedule, and tugs didn't start towing the boat out of Falmouth Harbour until this morning.
We can confirm that the Bibby Stockholm is currently traveling to Portland Port, a Home Office spokesman said. In comparison to pricey hotels, using vessels as alternative lodging as our European neighbors already do will be more affordable for British taxpayers and manageable for communities.
The statement says that we are still working closely with local councils and other important partners to make as little trouble as possible for local people and to get ready for the arrival of asylum seekers later this month.
Keep Reading
As the Bibby Stockholm got close to UK waters, Immigration Minister Robert Jenrick said the following: This government has made it clear that housing asylum seekers in expensive hotels, which costs the UK taxpayer £6 million per day, is not acceptable and must stop. At the moment, more than 51,000 asylum seekers are staying in hotels, which costs the UK taxpayer £6 million per day. To save money for the British taxpayer, we will use other housing that is easier for communities to handle, like barges, as our European neighbors do.
The barge left as lawmakers got ready to have another argument with the House of Lords about the illegal immigration bill. Lords members want additional leniencies on the provision of safe and legal pathways for refugees to enter the UK, protections against modern slavery, and restrictions on the detention of children.
The much debated Bill, which ministers insist is essential to addressing small boat crossings in the English Channel, was dealt a series of new defeats by the Lords last week. It entails continuing the parliamentary game of ping-pong, in which the legislation is batted back and forth between the Lords and Commons until a consensus is reached, regarding the Bill.
Despite protests from Conservative MPs, including former prime minister Theresa May, who have reservations about the reforms, the Commons overturned several earlier revisions made by the unelected chamber.
The Bill is a component of a package of measures intended to discourage migrants from entering the UK illegally by making it clear that they will not be allowed to stay and risk being returned to either their home country or a third country like Rwanda.
The agreement to send migrants to Rwanda on a one-way trip has run into legal issues and will ultimately be decided by the Supreme Court. The government is attempting to reduce the cost of hotel expenses due to the backlog of asylum cases in the UK by using alternative housing options, such as the Bibby Stockholm and former military bases.
Councils and activists have been given the go-ahead to file a High Court lawsuit challenging the practice of housing migrants on abandoned airfields. The use of Wethersfield in Essex to house up to 1,700 men is being contested in court by the Braintree District Council and a nearby resident, while West Lindsey District Council is challenging similar plans for RAF Scampton in Lincolnshire.
Wethersfield has already received dozens of asylum seekers. Later this month, the Bibby Stockholm is anticipated to carry the first group of asylum seekers.
Suella Braverman, the home secretary, had promised MPs on June 5 that the ship would arrive in Portland in a fortnight. The cost of providing services for the residents of Bibby Stockholm will be covered by a funding package worth £2 million given to Dorset Council.