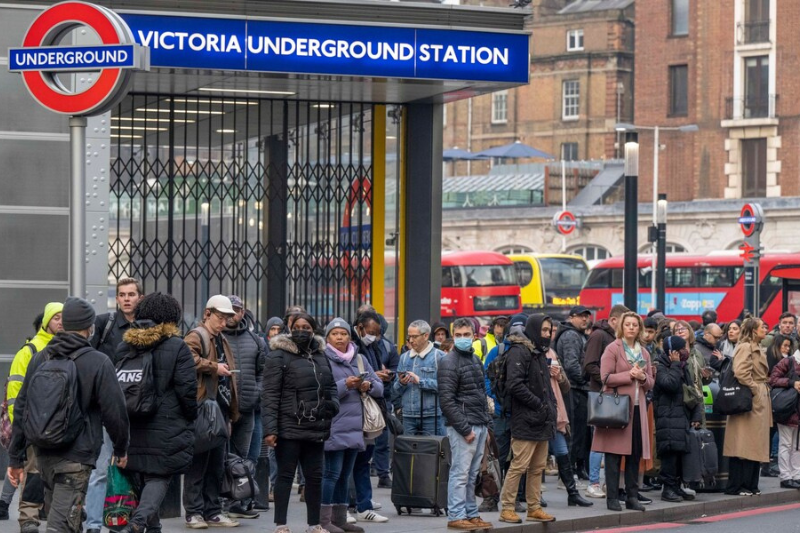 2023 train strikes walkout dates and services impacted
Travelers to the Ashes and The Open golf tournament will be impacted by the most recent industrial action.
As 20,000 rail workers get ready for three days of strikes in their protracted pay dispute, commuters face travel chaos this month.
After the companies failed to make revised pay offers, RMT members will strike once more at 14 train operators throughout England.
Fans hoping to watch two of the Ashes Test matches and The Open Championship golf tournament will be impacted by the most recent strike action.
As a result of 16 rail operators' train drivers refusing to work overtime for six days in July, Wimbledon travel for tennis fans is at risk. Four days of walkouts are scheduled for London Underground employees in July.
When Will There Be A Train Strike Next?
The following days will see 20,000 rail workers in the UK go on strike, including train managers, station employees, and caterers:
| | |
| --- | --- |
| JULY 20 | THURSDAY |
| JULY 22 | SATURDAY |
| JULY 29 | SATURDAY |
The fourth and fifth Ashes Tests will be impacted by the three days of strikes for cricket fans.
From Wednesday, July 19 through Sunday, July 23, Old Trafford in Manchester will host the fourth Ashes Test. Beginning on Thursday, July 27, and ending on Monday, July 31, is the fifth Test in London.
The Open Championship, which takes place at the Royal Liverpool Golf Club from Thursday, July 20, to Sunday, July 23, also conflicts with the strikes.
The Aslef train drivers' overtime ban, which could cause last-minute cancellations, will take place over six days, from Monday, July 3, to Saturday, July 8.
The strike falls during the first week of this year's Wimbledon competition, which started on Monday, July 3.
It follows the RMT and Aslef strikes that caused chaos for rail travelers in May, affecting thousands of people traveling to Wembley for the FA Cup final, Epsom Derby, Beyoncé's "Renaissance" world tour concert, and the Eurovision final in Liverpool.
Which Rail Firms Are Impacted by These Strikes?
14 rail companies will be affected by the RMT's strike, including Avanti West Coast; C2C; Chiltern Railways; CrossCountry; East Midlands Railway; GTR (which runs Southern, Thameslink, Great Northern, and Gatwick Express); Great Western Railway; Greater Anglia (which runs Stansted Express); LNER; Northern Trains; Southeastern; South Western Railway; TransPennine Express; and West Midlands Trains.
For various operators, the Aslef overtime ban will cause varying degrees of disruption. The impacted train companies are:
14 rail companies will be the target of RMT members' strikes, including:
GTR operates Southern
Avanti West Coast
C2C
Chiltern Railways
CrossCountry
East Midlands Railway
GTR (includes Southern, Thameslink, Great Northern, and Gatwick Express)
Great Western Railway
Greater Anglia (includes Stansted Express)
LNER
Northern Trains
Southeastern
South Western Railway
TransPennine Express
West Midlands Trains
Thameslink, Great Northern, and Gatwick Express.
Travel Tips for When There Are Train Strikes
Passengers are advised by National Rail to prepare for "significant disruption" on strike days. Additionally, services may be interrupted and begin later than usual the next day.
Customers are advised by National Rail to use its journey planner. Checking should be done close to each strike date's time.
• Stay updated with the Live Trains status page.
• Check and plan before you leave. This includes making sure your entire trip is verified, particularly if you take the first and last trains on strike days.
Keep Reading
Closures of Train Station Ticket Offices
According to the Rail Delivery Group (RDG), almost all train station ticket offices are closing, and staff members have been assigned to work on the concourse and platform instead. Only at the busiest stations will ticket offices be open.
Stations are displaying posters informing patrons of potential closures. Following consultation, the Government will decide which offices will be closed in the end. Although the timing of the first offices closing is unknown, the closure program is anticipated to last three years.
Why Are 20,000 Rail Employees on Strike Once More?
To put an end to the protracted industrial action, the RMT has accused train operators of failing to make a new pay offer.
"My team of negotiators and I are available 24 hours a day, seven days a week for talks with the train operating companies and government ministers," said Mr. Lynch.
Yet, quite amazingly, neither party has made any effort to set up any meetings or present a reasonable offer that can aid in our ability to negotiate a resolution.
The government "contractually sets the negotiating parameters" for the 14 train operators, according to the RMT, and is preventing them from offering any further concessions. 
The latest strikes were labeled "unnecessary" by the Rail Delivery Group, which represents the impacted train operators. 
A Rail Delivery Group spokesman responded to RMT's announcement by saying,
We have now made three offers that the RMT executive has blocked without a convincing explanation. It is challenging to move forward until the union leadership and executive are united in what it wants and engage in good faith with the 30% revenue shortfall the industry is still struggling with post-COVID. We remain open to talks, and we have repeatedly stated that we want to give our people a pay rise.
The RMT's membership extended the union's industrial mandate to participate in strikes for six months in May.
Why Won't Aslef Drivers Put in Extra Time?
The union that represents train drivers has been engaged in a pay dispute for the past year despite having staged several strikes beginning in the summer of last year.
The RDG's initial proposal called for an increase of 4% in 2022, followed by an additional 4% increase in 2023.
According to Mr. Whelan of Aslef, the proposal "was not designed to be accepted" due to the fact that, in real terms, it represents a pay cut as a result of the significantly higher rate of inflation.
He went on to say that there had been no increase in the salaries of train drivers since 2019.
In order for businesses to be eligible for the first increase of 4 percent, they were required to make the promise that they would use technology to speed up the process of training newly hired employees and that they would require drivers to adopt new routes more quickly in order to fill in service gaps.
The "successful conclusion" of negotiations on reforms, which would make it contractually obligatory for drivers scheduled to work on Sundays to do so if there was no alternative cover, would determine whether or not the second year of pay increases would be put into effect. If these negotiations were successful, the second year of pay increases would be put into effect.
The RDG argued that this change was necessary because leisure travel had recovered considerably more than commuter and business travel, and it now accounts for 116 percent of the levels that existed prior to the implementation of COVID.
The organization demanded that "back in the hands of the employers" control be given over the work and training schedules of employees.
However, the union representing train drivers argued that the offer of an increase in pay of 8%, which would have taken the typical driver's salary from approximately £60,000 to slightly less than £65,000 over the course of two years, was insufficient.
Since July of last year, inflation has primarily been in the double digits, and it has remained at 10.4 percent throughout the month of March. Therefore, the pay offer would still constitute a significant reduction in pay when measured in terms of actual dollars.
An industry that is already facing a severe financial crisis would not benefit from additional strike action, according to a spokesperson for RDG, and such action would only pile on more pressure.