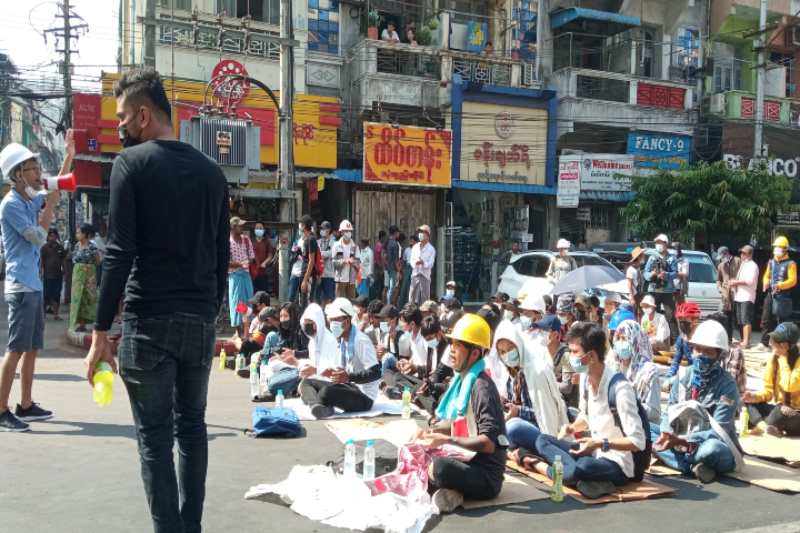 myanmar protest
After the military taking over Myanmar, civilians have taken over the streets to express their willingness for military rule. In the series of protests, a huge outburst saw 18 people being killed while fighting for their rights. Indian embassy expressed its grief for the same.
The Indian embassy gave out a statement on Monday saying that it was deeply saddened by the loss of life that Yangon witnessed. Not only Yangon but many other cities also witnessed unrest and the police resorted to firing on the protesters on Sunday while asking the rest to resolve the issue 'through dialogue'.
The Indian embassy in Myanmar released a statement through twitter where it expressed condolences to the families and loved ones of those who were killed during the protest. "The Embassy of India is deeply saddened by loss of lives in Yangon and other cities of Myanmar today. We express our heartfelt condolences to families and loved ones of those deceased."
The embassy then added that everyone involved in the situation should take the peaceful route and not cause such severe cases of violence.
A report by CNN earlier confirmed that nearly 18 people have been killed and over 30 have suffered serious injuries after the Sunday bloodbath in the country, which is witnessing a violent take over of the military. The United Nations Human Rights office also said that it was after the police confrontation with the unarmed protesters that the situation took a violent turn.
February 28 became the most violent day since the military coup as the police and the military did a show of power on Sunday. The country is currently witnessing large scale demonstrations against the Myanmar Army after it ousted the elected government led by Aung San Suu Kyi.
It has been nearly a month since the take over and there has been no proper line of communication between the public and the military power. The atrocious behaviour of the military was highlighted by the UN human rights office who said that they have credible information about the use of 'deadly force' against the peaceful protestors.
Ravina Shamdasani, a spokesperson from the office, said that the killings were a result of open firing. They also reportedly used tear gas, flash bang and the stun grenades. She also added that at whatever costs, the fundamental rights must always be respected.