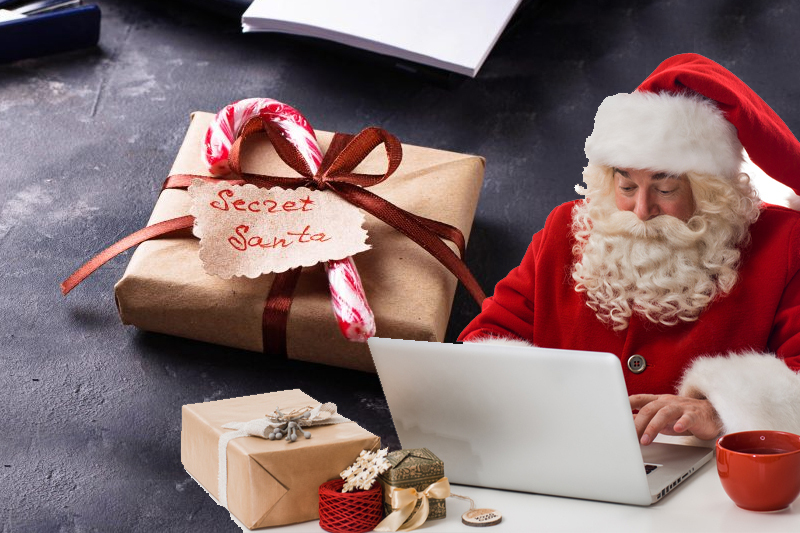 10 secret santa rules for the workplace
Last updated on August 26th, 2023 at 11:32 am
It is that time of year when Christmas can no longer be denied. Plans are being made for the office party, there are heated debates regarding the superiority of Home Alone vs Miracle on 34th Street, and Roy Wood is anticipating the arrival of his annual royalty checks.
Prior to engaging in the perilous business of making a fool of yourself in front of your puzzled coworkers (and, unfortunately, your boss), you must observe another hallowed office tradition: the office Secret Santa.
However, do not worry just yet. Adhere to the following Secret Santa principles, and you should narrowly dodge this hazardous minefield of manners!
1. Ensure everyone understands Secret Santa
This may seem apparent, but it is a reasonable starting point. Therefore, if you are new to the regulations, it basically goes as follows:
You compile a list of all participants and place their names in a hat. Everyone then draws a name and is responsible for purchasing a gift for that person. The catch is that the whole affair is anonymous, so you won't know who purchased your gift (but you'll enjoy watching your recipient unwrap theirs). Simple, right?
You can even customize the game to suit contemporary office practices. Elfster is an online Secret Santa Present Exchange where you may invite folks via email and have your gift mailed directly from the merchant if your team is geographically dispersed across the county (or even internationally).
2. Set a budget
This is likely the most crucial aspect of Secret Santa. The game is intended to be entertaining, and Christmas is already a costly time of year for most people. Therefore, it is not prudent to expect people to spend more than £50 on a gift.
Set the budget to a little amount, such as £10, which is sufficient to cover a bottle of wine or a box of chocolates, or to inspire you to be extremely inventive. Obviously, nobody will hold it against you if you find something that would be wonderful for twelve pounds.
In most circumstances, however (unless it's something that is really great and everyone would enjoy it), exceeding the budget would make others feel uncomfortable and isn't in the spirit of the game, so it's a good idea to stick to the budget. When everyone is on an equal basis, things are more enjoyable.
3. Keep the gift simple
If you know the recipient of your gift, you should try to find something that reflects their personality and interests, or is connected to a joke you share.
Even if it's something pointless and foolish, the purpose is to demonstrate familiarity, and the present should ideally make the recipient chuckle or have a nostalgic value. Obviously, this is not always the case in larger businesses and workplaces. If you draw a stranger, you can always attempt to strike up a discussion with them in the hopes of gleaning a couple of prospective gift leads.
While approaching a total stranger in the break room and asking if they like wine or have dogs could be a touch obvious (or possibly cause minor panic), it's still a great opportunity to expand your social horizons at the office – you just need to be a bit more subtle about it.
If this isn't possible or you still can't think of a gift idea, it's best to keep things simple.
4. Ask everyone to create a wish list
Buying a present for a coworker can be challenging, especially if you know nothing about them. So, if you want to prevent everyone from receiving a coffee mug with a moderately amusing joke, why not have folks submit gift choices for their Secret Santas?
Better better, you could make the situation more engaging by encouraging people to disclose intriguing facts about themselves, such as their hobbies, favorite television series, and guilty pleasures. Or, you might keep it more general by asking them to mention their favorite color, scent, or season. This will provide everyone with a greater insight into the recipient's personality, lead to more innovative gifts, and help everyone get to know one another better!
5. Avoid personal gifts
Regardless of how attractive Katie would have been in her negligee, the point of the game is to have fun, not to put someone on the spot and make them feel extremely uncomfortable. Romantic items should generally be avoided for this reason, with the general view being that you should not purchase anything that you would get for your lover.
This can also apply to other sensitive gifts that could embarrass someone, such as a religious or cultural gift, or even something as harmless as clothing. The recipient of the sweater you purchased for them may be afraid of people knowing their size, or you may have guessed incorrectly. If you must give someone clothing, stick to unisex accessories such as scarves and mittens.
In conclusion, while you should be encouraged to purchase something unusual and intriguing, you should always be mindful of the possibility of causing offense; apply common sense, and if in doubt, keep it simple.
Keep Reading
6. Keep an open mind
The game should be entertaining, and the unwrapping ceremony should be humorous. If everyone in your office receives an identical box of chocolates or gift cards, it indicates that morale and teamwork are lacking.
When selecting a humorous present, the joke should be straightforward and, ideally, understandable to everyone, including the receiver. The last thing you want to do is offend or confuse someone, so if you're going for a risqué approach, assess your workplace and ensure that people will find it humorous.
7. Receive your gift graciously
Don't forget that you'll also be receiving a gift and that someone may be putting the same amount of care and work into selecting something for you as you are. Therefore, be kind and respectful when you receive your present, even if you dislike it. In fact, particularly if you dislike it.
Do not complain about the poor quality or poor judgment of the present to your other coworkers. Aside from the fact that you don't know who purchased it (it could very well be Jane who chose your new self-stirring mug [paid link] before you call it "shitty"), workplace gossip spreads quickly, and your pettiness will reflect poorly on you.
Thank the anonymous buyer and, if necessary, immediately place the item in the attic. If someone has thoughtfully given you a case of beer that you do not drink, you should grin and dispose of them later. Unless it is something extremely controversial, there is no need to make a scene.
8. Don't be afraid to experiment!
Change things up if you're seeking for ways to make them more engaging. Set a theme that everyone must adhere to, such as Disney films, jigsaw puzzles, or Christmas onesies [paid link], or make it more ambiguous by stating that all the gifts must be a specific color.
You need not spend any money either. For instance, you could have a bake-off Secret Santa in which everyone makes delectable holiday delicacies for one another. Or, because Christmas is the season of giving, you can make charitable contributions in each other's names. Be as imaginative as you please!
9. Set a date for the gift exchange
Set a date for the gift exchange after everyone has the name of their receiver. Whether you intend to do this at the annual corporate Christmas party or during the workday, ensure that all participants can be present to receive (and deliver) their gift!
Between work and personal obligations, it can be difficult to find the time to go Christmas shopping. Ensure that everyone has at least two weeks before the large gift exchange.
In the meantime, if you're planning a virtual Secret Santa, it may be prudent to start early and allow additional time before the virtual party so that everyone receives their gifts on time!
10. Don't forget to leave clues!
After the present exchange, if everyone is going to guess who their Secret Santa is, you may add another aspect to the game. Essentially, Secret Santa participants should leave their recipients clues and modest presents such as chocolates.
For instance, if you and the receiver both enjoy Starbucks' holiday blend [paid link], you could leave a long gingerbread latte on their desk while they're away. However, ensure that your tokens are not too obvious; you don't want people to guess your identity before the gift exchange!
However, it is vital to remember that Secret Santa is not about the gift you get, but rather the activity itself. Similar to Christmas, it is intended to bring people closer together and create a team spirit.
Adhere to the following guidelines, and your Secret Santa will be a success for everyone involved!
What is the best Secret Santa present you have ever given or received? Share your thoughts in the comment area below!