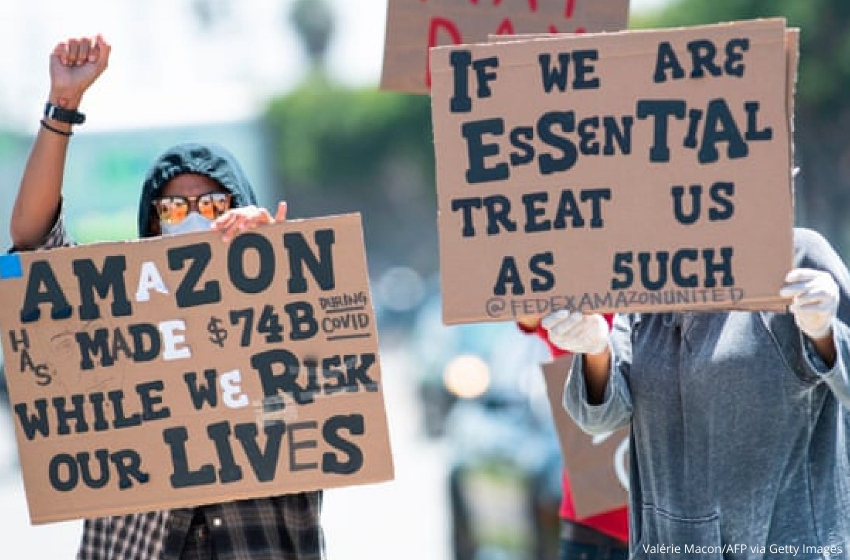 Workers at Amazon's warehouse organise protests against company's attitude towards safety measures
Workers at Amazon's warehouse in Staten Island cerebrated the May Day (International Workers Day) by organising protests against the company's attitude towards safety measures, compensation, working hours and basic legal rights. Similar protests were planned in the California Bay Area, Los Angeles, Atlanta, Oakland, Ohio and Kentucky. Amazon is one of the few companies who thrived amidst the global lockdown, earning about $33m an hour in the first three months of the year. The company is selling essential items to its customers all across the globe as they have been ordered to stay at home to curtail the spread of coronavirus pandemic. While Amazon claims to be serving millions, it has been accused of ignoring hundreds of those who working for it.
Last week, the e-commerce giant reported blockbuster first-quarter sales, though nothing seemed to have trickled down as the workers have been repeatedly asking for more personal protective equipment, professional cleaning services and increase in their pay. What gave a thunderous voice to the issue which has been making noise for weeks was resignation of the company's top executive over its treatment of its workers. On Monday, Tim Bray, the company's Vice President "quit in dismay" because Amazon has been targeting and "firing whistleblowers who were making noise about warehouse employees frightened of Covid-19." In an open letter on his website, Mr. Bray called the company "chickenshit" over mistreatment of its employees who organised protests. He added that the company has fired many dissenters in order "to create a climate of fear."
Last month, Amazon fired Christian Smalls, an ex-Amazon worker in New York City and one of the organisers of Staten Island protests, over the violation of quarantining rules. The company said that Mr. Smalls was asked to leave as he came to work after coming in contact with someone who had coronavirus. New York Attorney General Letitia James called for an investigation into Mr. Smalls firing as Ms. James contested company's reason. She said that Mr. Smalls was thrown out for organising a protest against the company highlighting the issue of lack of precautionary measures, putting workers safety in jeopardy.
Besides, what added to the humiliation of the company was leaked memos, which showed the Amazon's general counsel, David Zapolsky, calling Mr. Smalls "not smart, or articulate" and argued that media, through his case, would place Amazon "in a much stronger PR position than simply explaining for the umpteenth time how we're trying to protect workers". Though the company later apologised for the same.
On 10 April, Emily Cunningham and Maren Costa also faced a similar fate as Mr. Smalls as they got fired from their corporate roles after they organised a virtual event focusing on working conditions at Amazon and the company's response to the pandemic. The two were part of a group called Amazon Employees for Climate Justice. Like Mr. Smalls, many protestors raised the issue of increasing coronavirus infection cases at warehouses around the country and the workers accused the company of not doing enough to save their lives. The tragic death of an Amazon worker at a warehouse in New York on Tuesday due to Covid-19, fanned the criticism again the company.