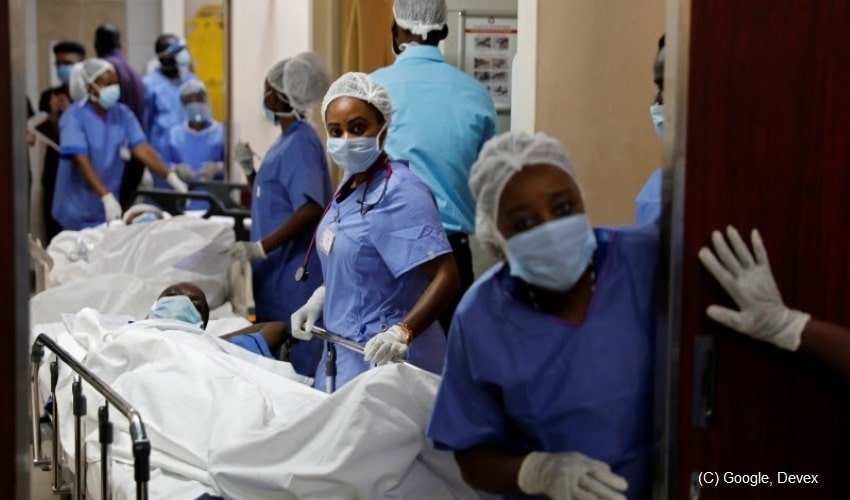 Amnesty International published today a new report on the conditions experienced by doctors and health workers during the coronavirus pandemic.
Amnesty International published today a new report on the conditions experienced by doctors and health workers during the coronavirus pandemic. The report is based on testimony of health workers in 12 countries: Eswatini, Finland, France, Kyrgyzstan, Greece, Indonesia, Italy, Madagascar, Pakistan, Papua New Guinea, South Africa and the UK. For months now, health workers have been doing their jobs in exceptional conditions. And even though COVID-19 contagion rates are increasing in many regions of the world, the sacrifices made by health workers are no longer in the headlines. Many of us are exhausted by news of the pandemic. And public displays of solidarity have dwindled as confinements drag on.
But as the race for a vaccine finds pace, it is more important than ever to hear the stories of doctors and nurses. COVID-19 has imperilled and worsened longstanding weaknesses in some health care systems, and there are many lessons to be heard from this pandemic. "The insights of health workers must be listened to and their concerns addressed; this will be crucial for better protecting human rights and lives in the future," Amnesty said today. The World Health Organization (WHO) warned recently that the pandemic has demonstrated the consequences of chronic under-investment in public health. In some countries, poor infrastructure and inadequate equipment meant health systems were overwhelmed even before the pandemic.
If health workers are not safe, neither are we. pic.twitter.com/ihiNTxD4SZ

— Amnesty International (@amnesty) July 25, 2020
Anara, a neurologist at a hospital in Kyrgyzstan told Amnesty that the conditions made her cry. The neurologist denounced that there was not always enough light. "The switches would break, and the surgeons would mend them. Sometimes the plumbing broke down too, and there were only two plumbers for the whole hospital. Once a window smashed in the wind – we had to fix it ourselves even though we were afraid of tearing our gloves. We also did not have specialized intensive care beds, and we often had to put patients on the floor to carry out resuscitation". She reported.
Rado, a stretcher bearer at a hospital in Madagascar, who since the start of the pandemic has also been working in the hospital's makeshift morgue, preparing bodies for burial, said that a lot of things make him anxious. All the health workers denounced the lack of material and equipments. "There was no proper morgue here – we had to empty a storage building to put bodies in". Rado told Amnesty International, highlighting that the hospital where he works is in ruins.
In addition to inviting governments to provide the necessary equipment and means of protection for the operators involved in the front against COVID-19, the human rights organization has also highlighted the need to fight false news and disinformation. "Combatting misinformation in media is a challenge we need to address". Doctor David from Papua New Guinea stressed, describing how fake news contributed towards hostility aimed at health workers. "At the start there was the misconception that COVID-19 was like the plague. Back in March, hospital staff were turning away patients because they were afraid – now health professionals are using PPE and people understand better. I know of a nurse who became positive and her family kicked her out of the house". The doctor said, recalling that people didn't believe she was negative when she recovered.
Also, the organization recorded several instances of violence against health workers, including attacks by frustrated family members when patients dye in the hospitals. Police officers in Europe have been target of violence physical and verbal with the outbreak of protests against the restrictive measures established by governments to limit the spread of COVID-19. Amnesty International reaffirms that to combat stigma against health and essential workers, states should distribute accurate and evidence-based information about the virus, including how it spreads and how it can be prevented.