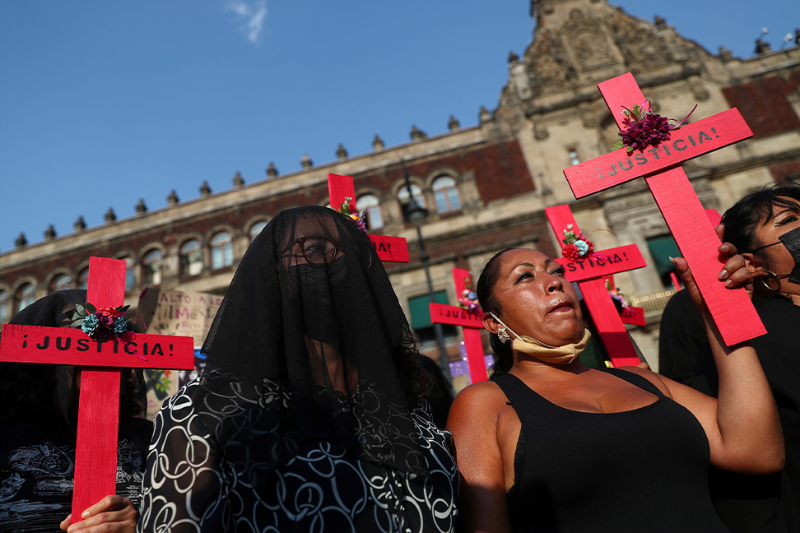 we are here to tell you…." femicide in mexico
Last updated on July 7th, 2023 at 05:48 am
After being stabbed 37 times by her ex-partner, Jeysol Amaya required two months of intensive care. Along with the hospital and legal costs she racked up in her pursuit of justice, Amaya is still working through the emotional trauma of the 2015 attack.
In the southern Mexican city of Campeche, Amaya, a former club dancer, said, "He is still free, and I live in fear every day." "How do I know that when I go out to the street, he won't try to do something?"
Amaya survived an attempted femicide, which is a hate crime that is defined as the deliberate killing of women and girls due to their gender.
According to government statistics, about 10 women and girls are murdered in Mexico every day- Femicide is there!
According to government statistics, about 10 women and girls are murdered in Mexico every day either by intimate partners or other family members. The crimes have sparked numerous protest waves and elevated gender violence to the top of the political agenda in Mexico.
However, according to Mexican journalist Gloria Pia, those who survive gender-based violence frequently lack protection or access to justice.
Pia, who won the 2023 Breach/Valdez Award for Journalism and Human Rights for her documentary "The Survivors: Forgotten by Justice," said, "We hear a lot of stories about killings of women in Mexico, but we don't hear about the women who survive these extreme acts of violence."
A call to arms
The documentary, which is told through interviews with survivors, attorneys, and women's rights advocates, has sparked calls for change to end gender-based violence in the Latin American nation and has turned into a call to action for women to break their silence and form alliances with other survivors to start over.
To honor the work of journalists covering human rights issues in Mexico, the UN Human Rights office in Mexico, other UN agencies there, and several other organizations established the Breach/Valdez Award.
"I believed it was crucial to share their story. It is as if something doesn't exist when you don't name it. However, if you name it, we can change it," Pia said.
Keep Reading
Legal pitfalls and carelessness
To conduct her research, Pia examined court judgments and complaints from all over the nation. She then documented how harmful social norms, legal flaws, carelessness, and a lack of a gender perspective in the legal system allow the vast majority of violent attacks against women to go unpunished, leaving victims like Amaya defenseless, without compensation, and in many instances with little to no accountability for the attackers.
In the last eight years, Mexican prosecutors have launched 1.7 million criminal investigations into cases of women being beaten, burned, strangled, or injured with knives or firearms, according to the documentary. Only 781 of these were started as attempts at femicide. The remaining offenses were labelled as intentional harm or domestic abuse, which entail less serious penalties.
Despite overwhelming evidence, failing to prosecute such attacks as attempted femicide minimizes the severity of the problem of violence against women and encourages a culture of impunity, according to Pia. The majority of the survivors in her documentary worry that the same attackers, who are still at large or are awaiting trial, will attack them again.
The Iceberg's tip
Despite the startling statistics presented in the documentary, Pia claimed that the suffering of survivors of gender violence is just the tip of the iceberg.
Officially reported "missing" in 2022 were 2,481 women and girls, according to government statistics, but civil society organizations claim the actual number is higher. According to civil society organizations, the disappearances of women in Mexico conceal other types of violence against women, such as femicide, kidnapping, and human trafficking.
The majority of incidents of violence against women go unreported. According to Pia, many victims choose not to report their abuse out of concern that they will be stigmatized or to avoid an expensive and time-consuming legal process that could take years to complete without the offenders being held accountable.
Building a new life
The women featured in the documentary have used their harrowing encounters to fight for justice and have established support networks that are assisting them in getting over their losses and emotional pain. They candidly describe the specifics of the abuse they have endured as well as the daily struggle they face to regain their dignity.
The documentary's entire purpose, according to Pia, is to demonstrate how these women are remaking their lives. "It's as if by healing their wounds, people who have been hurt by violence become more solid and stronger."