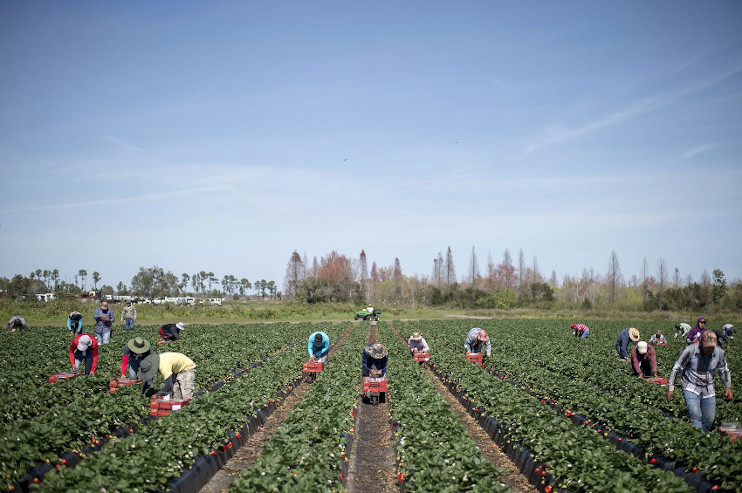 (C)WashingtonPost
For some time now, all US residents have been trying not to leave their homes, much less to appear in crowded places. But at the same time, the opposite is happening in the Mexican city of Monterrey.
More than a few thousand young people arrived in the city, like most weeks of the year, filling in cheap hotels, standing in long lines at the US consulate to get special H-2A visas for temporary agricultural workers, and then gather in a large park to sit down on buses heading to farms in the United States.
"I talked to people who travel to North Carolina, Kentucky, Michigan, Mississippi," said Justin Flores, vice president of the AFL-CIO Farm Organizing Committee, who was in Monterrey for meetings. "They were sent to destinations across the country to provide a truly important workforce that supports the foundation of our economy, namely the agricultural industry."
On March 16, the US Embassy in Mexico City announced that it was suspending the adoption of urgent visas due to concerns about the health of its employees and visitors.
  At the same time, however, the embassy notified farm employers that many – perhaps most – of these farm workers can still get their visas because they participated in the program last year and do not require a personal meeting at the consulate.
Many slaughterhouses, dairies and vegetable producers say that they are open for business, ready to feed the nation.
Meanwhile, distributors and wholesalers of food in the middle of this supply chain are trying to work wonders of logistics by redirecting food trucks from closed businesses to places where people are now craving for it — mostly to grocery stores.
"We lose a lot of occasions, such as birthday parties or weddings, when people usually get together," said Stephen Runnakleiv, who oversees the beverage sector at RaboResearch Food & Agribusiness.
  "For the world of drinks, this is an occasion for consumption.  We are losing some of them," says Rannekleiv.  He notes that in China, total demand for alcoholic beverages fell by about 10% during the crisis with coronavirus.
There is even greater concern looming over the food industry: the prospect of workers having a positive result at COVID-19.
Vegetable growers are considering a policy that would require quarantine for everyone who worked in the immediate vicinity of an infected person. This can easily include two dozen or more people. H-2A visa workers often live together, share kitchens and bedrooms, and travel together on buses. The virus can spread rapidly, and measures to stop it will be extremely costly.
The suspension of visa issuance by Mexican seasonal workers due to the spread of coronavirus in the United States will create a problem for American farmers and fishermen.
About 800 thousand workers are employed in the American industry engaged in the cultivation of fresh fruits and vegetables. According to statistics, over the past five years, the shortage of workers in this industry was about 40%.
With the introduction of restrictions, the American industry may lose more than 250 thousand pairs of workers. In 2019, 258 thousand workers received a work visa, most of whom were from Mexico.