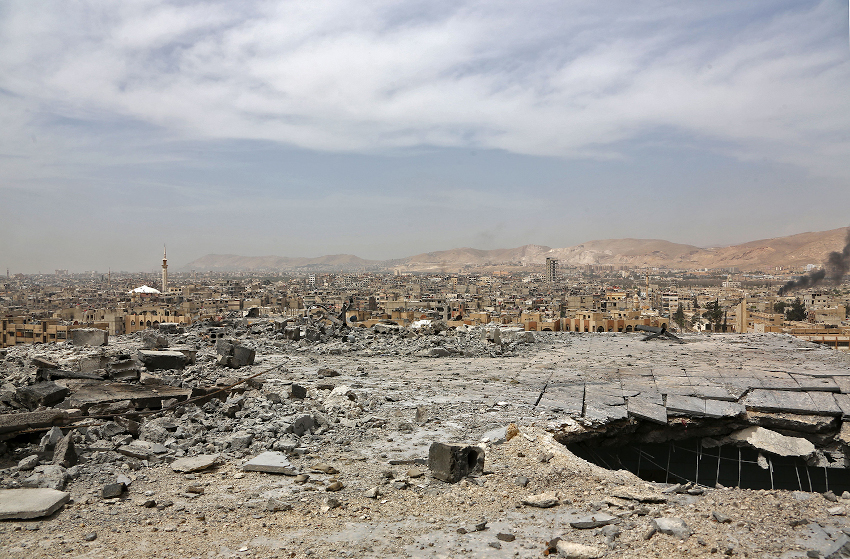 (C)Foreign Policy
Last updated on September 28th, 2021 at 09:19 am
The Syrian Air Force was accused, by the Prohibition of Chemical Weapons' Organization on Wednesday, of carrying out prohibited chemical attacks on Latamneh town in Hama Governorate, western Syria, on March 2017.
The report, issued by the organization's investigation team, established in 2018, for the first time, held the Syrian regime responsible for a chemical weapons attack targeting the town of Latamna, according to the Associated Press.
The organization's team "said that there are evidence of the use of sarin as a chemical weapon in Latamna on March 24th and 30th 2017 and chlorine on March 25th of the same year, are people belonging to the Syrian Air Force." The investigation team's coordinator, Santiago Onati Labordi, said this in a statement.
The Organizations' investigation and identification committee said that more than 100 people were affected by the attacks on March 24th, 25th and 30th 2017 in Latamna town.
The Syrian Air Force's 50th Battalion had dropped M-4000 air bombs containing sarin gas over the town and a barrel containing chlorine on a hospital, indicating that the attacks were launched from the Al-Shaerat and Hama air bases. A summary of the report stated.
While the OPCW investigators have identified the people responsible for the attacks, the names have been withheld from the report, which was distributed on Wednesday to the 193-member organization.
"There are reasonable grounds to believe that the users of sarin as a chemical weapon in Latamna and of chlorine as a chemical weapon, are members of the Syrian Air Force," Santiago Onati Laborde said in a statement.
"Attacks of this strategic nature occur only on the orders of higher authorities led by the Syrian Arab Army." He added.
"The identification team is not a judicial body and it is up to the organization's members, the Secretary-General of the United Nations and the international community "to take any further action that they may deem appropriate and necessary." Fernando Arias, head of the Organization for the Prohibition of Chemical Weapons, said.
The investigation team responsible for this report has been formed to identify the perpetrators of unlawful attacks. To date, the organization's mission is limited to identifying the attacks, not identifying the perpetrators. The Syrian regime has consistently rejected repeated allegations of chemical weapons attacks.