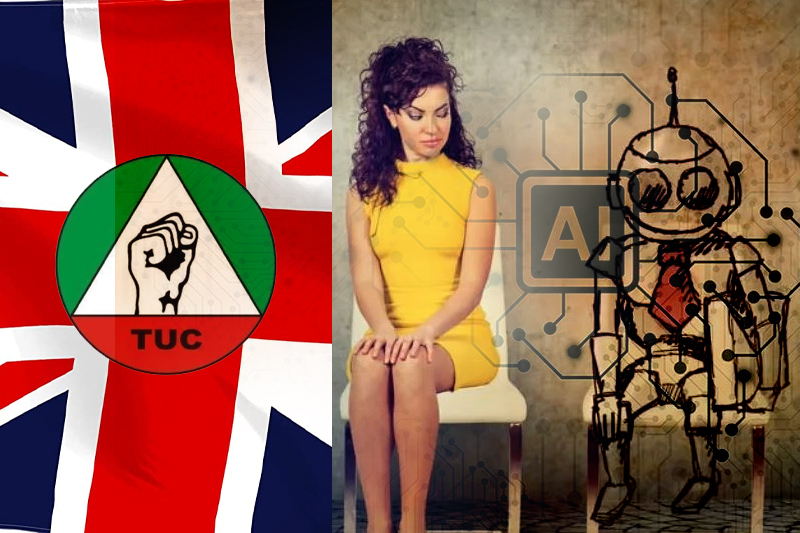 uk workers are at risk from the ai revolution, the tuc warns
The Trades Union Congress warned on Tuesday that the UK government is failing to defend workers from the quick adoption of artificial intelligence systems that will increasingly determine hiring and firing, pay and promotion.
Concern over the potential effects of new technology in the workplace has increased due to rapid advancements in "generative" AI systems like ChatGPT, a programme that can produce content that cannot be distinguished from human output.
But the TUC, an umbrella organisation for unions and the voice of the UK labour movement, asserted that AI-powered technologies were already extensively used to make significant economic decisions.

Recent high-profile cases involve the "robo-firing" of Uber and Ola Cab drivers by an Amsterdam court as well as a dispute in the UK over Royal Mail's monitoring of postal workers' productivity.

However, the TUC claimed that AI systems were also widely used in hiring, for instance, to make judgements based on candidates' facial expressions and voice tones during video interviews.
Teachers had also expressed concern that they were being watched by the same systems that were initially put in place to monitor student performance. Call centre employees claimed that their colleagues were routinely assigned calls by AI programmes that were more likely to result in a positive outcome and, therefore, earn a bonus.

"These technologies are frequently referred to as the workplace of the future. There is plenty of evidence to suggest that it permeates all employment relationships. These are urgent issues that exist in the workplace and have for some time, according to Mary Towers, a TUC policy officer.
Keep Reading

She continued by saying that the emergence of generative AI had "restored urgency to the need for legislation."

The TUC contends that as the use of AI-powered technologies grows, the government is failing to put in place the "guard rails" required to safeguard workers.

It criticised as "vague and flimsy" a government white paper released last month that outlined guidelines for current regulators to follow when keeping tabs on the application of AI in their fields, but made no recommendations for new laws or funding to support their implementation.
The EU, which is currently drafting a comprehensive set of regulations that could soon represent the most restrictive regime in the world on the development of AI, is taking a very different approach than the UK, which is to "avoid heavy-handed legislation which could stifle innovation".
The TUC added that crucial current worker protections would be diminished by the government's Data Protection and Digital Information Bill, which on Monday received its second reading in parliament.
According to the TUC, one provision of the bill would reduce current restrictions on the use of automated decision-making without meaningful human involvement, and another provision might reduce the requirement that employers consult with employees before introducing new technologies through an impact assessment process.
Ministers are refusing to properly regulate AI, on the one hand. Additionally, they are weakening crucial protections, according to Kate Bell, assistant general secretary of the TUC.
A lawyer named Robin Allen KC led a report on artificial intelligence and employment rights that was commissioned by the TUC in 2021. In that report, she stated that "more money, more expertise, more cross-regulatory working, more urgent interventions, and more control of AI" were urgently needed. Without them, he continued, "the whole idea of any rights at work will become illusory".
An official from the government, however, claimed that "This assessment is incorrect" and asserted that AI was "set to drive growth and create new highly paid jobs throughout the UK, while allowing us to carry out our existing jobs more efficiently and safely."
A spokesperson for the government said that it was "working with businesses and regulators to ensure AI is used safely and responsibly in business settings" and that the Data Protection and Digital Information Bill contained "strong safeguards" that employers would have to put in place.