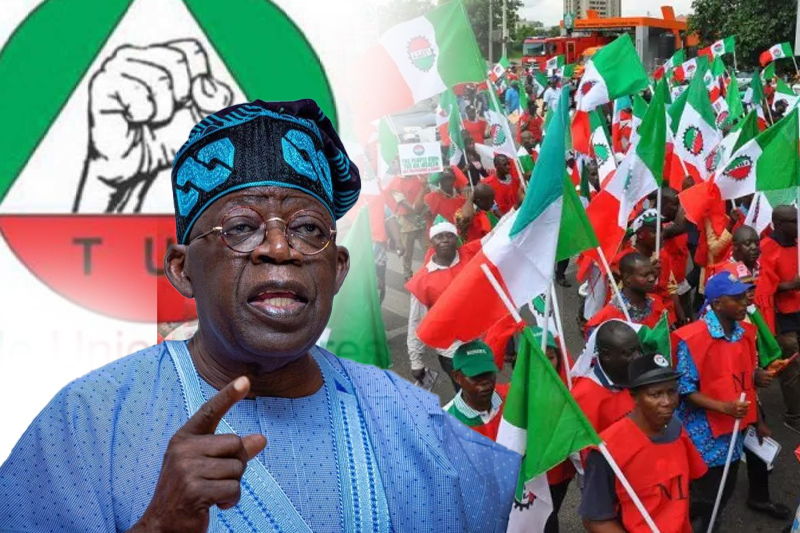 tuc demands n200,000 minimum wage
In a statement, TUC's President Festus Osifo and Secretary General Nuhu Toro said, "For immediate implementation: the price of PMS at the pump should stay the same while we talk about it. Before the end of June 2023, the minimum wage should go up from its current level of N30,000 to N200,000, with changes to the cost of living allowance (COLA) for things like food, transportation, housing, and so on.
"A representative of the state governors will be a part of this statement, and all of the governors must agree to put the new minimum wage into place."
No Government and private employees earning less than N200,000 or 500 USD per month will be taxed. People who make between N200,000 and N500,000 (or between $500 and $1,200), whichever is higher, will get a PMS allowance. For the next 10 years, the exchange rate for selling PMS in the country must stay within a range of 2%. If the rate changes by more than 2%, the minimum wage will automatically go up at the same rate.
Establish an intervention fund where the government will pay N10 per liter for all PMS used locally. The main goal of this fund is to solve long-lasting problems in education, health care, and housing that affect the whole country. To manage the implementation, a governance structure will be set up that includes labor, civil society, and the government.
Keep Reading
Public transportation should be accessible to everyone by the federal government. To make life easier for workers and students, state governments should set up a free transport system right away. Plans will be made for how this will work. Review the National Health Insurance Scheme right away so that it covers more Nigerians and there aren't too many drugs on hand. Visit the refineries that are currently being fixed up to see how the work is going and set a timeline for when it will be done.
"The president should tell whoever will be in charge of labor to set up the National Labour Advisory Council (NLAC) right away. This forum will be used by the government, labor unions, and employers to talk about issues and policies of the government that may affect workers, as well as all other legal requirements.
"The $800 million could be a first step towards directly subsidizing food items. The National Housing Fund (NHF) should be made available to honest workers. The rules for this should be talked about and agreed upon.
More about the TUC of Nigeria…..
TUC also said that, in the middle term, the government would keep its promise to put Compressed Natural Gas (CNG) stations all over the country. Both sides will work on and agree on the framework and timeline.
The government and Labor will work together to cut government costs by 15% in 2024 and 30% in 2025. Rail networks should be expanded across the country immediately and roads should be kept in good condition. The government must come up with a plan for social housing for workers through a rent-to-own system.
"The state of electricity in the country needs to be looked at, and a plan with deadlines should be made for how to fix it."