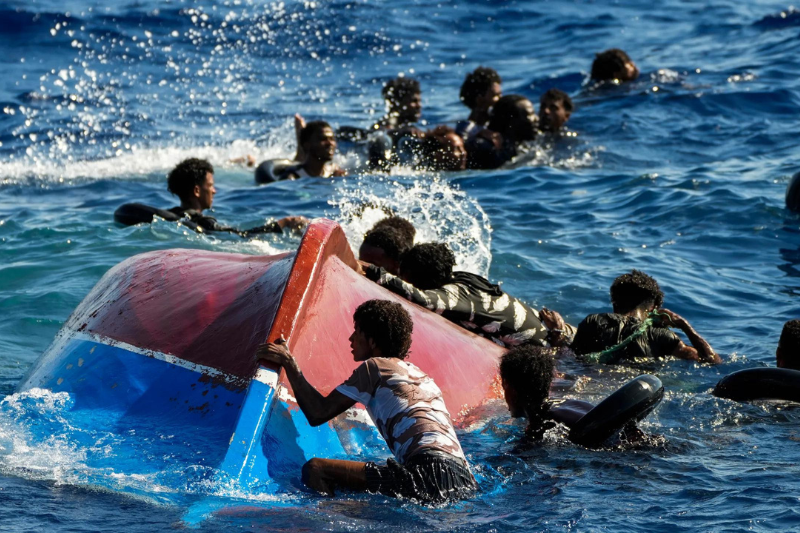 tragedy strikes as over 60 feared dead in migrant boat disaster off cape verde
More than 60 people are presumed dead after a boat carrying migrants was discovered adrift near Cape Verde in West Africa in a heartbreaking episode that illustrates the ongoing humanitarian problem of illegal migration. A Spanish fishing boat located the ship, which had been at sea for over a month, around 320 kilometres (200 miles) from the Cape Verdean island of Sal. Officials from Cape Verde have urged swift international action to address the migrant problem and stop more human casualties.
Men, women, and children tragically boarded the boat for a better life and safety from the turmoil and difficulties in their native nations. The fate of the other survivors is still unknown, even though Sal was able to rescue and onshore 38 survivors, including four kids between the ages of 12 and 16. As they got off the boat, it was possible to see the survivors being helped onto stretchers.
Most individuals on board the tragic ship were thought to be from Senegal, a nation plagued by poverty, political unrest, and growing insecurity due to Islamist insurgencies and coups. According to reports, the wooden pirogue-style boat set out on its treacherous journey on July 10 from the Senegalese fishing hamlet of Fasse Boye with 101 people on board.
Keep Reading
Authorities reported that Sierra Leone and, in one case, Guinea-Bissau were among the survivors' countries of origin. The Canary Islands, a Spanish province frequently regarded as a gateway to the European Union, were most likely the migrants' intended destination. However, this path has turned out to be one of the riskiest for migrants, with many lives, lost due to hazardous conditions and exploitation by human smugglers.
The survivors' urgent needs, including rehydration and medical examinations, are being attended to by health personnel on the island of Sal. The incident has rekindled calls for safe and authorised migration routes, as the lack of such routes frequently pushes desperate people into the hands of smugglers and traffickers, with disastrous results.
Advocates stress the need for global cooperation and a comprehensive approach in order to address the core causes of migration, such as poverty and instability. Thousands of migrants have risked their lives in recent years trying to reach the Canary Islands, despite the efforts of organisations like the International Organization for Migration (IOM). Due to the illegal nature of these routes, the actual death toll from such voyages is probably higher than what is publicly reported.
The tragic loss of life off Cape Verde highlights how urgent it is to find long term solutions to the world's migration dilemma. The international community must unite to solve these underlying problems and develop safer alternatives for those looking for shelter and a better future, even as poverty and instability continue to drive people to embark on dangerous voyages.