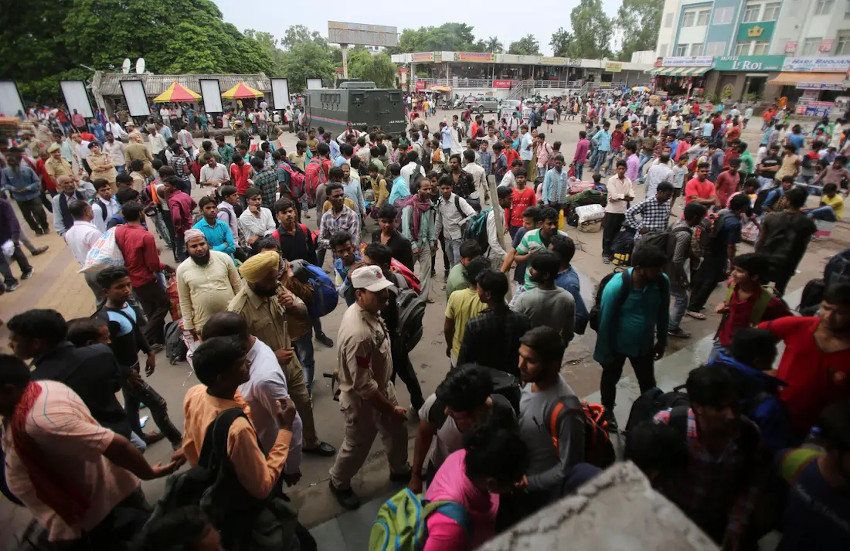 (C)BusinessInsider
With the spread of the new coronavirus, COVID-19, in Jammu and Kashmir, many migrant workers stranded in the region are making a desperate appeal to the Indian government for food and transportation. Musharraf Shareef, a worker stuck in Srinagar with a group of over seven people, complained that he had no food or money to the international media. Shareef is one of many migrant workers stranded in the region after the government announced the block-down to stem the spread of coronavirus.
Although the government started recently a helpline to provide help and assistance to the 22,000 foreign workers stranded in Kashmir, many of them are still unable to make a call because they have run out of credit and have no money to buy a top-up. A group of workers last Friday walked 100 kilometres overnight from the Shopian district of southern Kashmir to Surankote in the Poonch area in ​​the Jammu region, but once arrived the authorities subjected them to quarantine to avoid possible virus transmissions. An official from the region's labor department said to Anadolu Agency he could not allow any of these workers to move because they could easily carry the deadly coronavirus pandemic. 45 cases have been officially registered in the region so far, while over 6,000 patients have been placed under observation, two are died, while two others have recovered.
The fear of the spread of the virus in Kashmir has led foreign workers to become targets of discrimination by local community. People asked newly arrived non-local workers to leave the locality in the Tangpora area of Srinagar. When the workers arrived about 15 days ago refused to leave, there were several tensions and local media talked about a fight between the two sides. Such clashes have been reported by local media in different parts of the Kashmir Valley, with residents panicked by the arrival of non-local workers who, as every year, come in the region from distant places in mainland India to mitigate the shortage of manpower in the valley. Although they are usually welcome, their presence aroused fear and anger this time as they are perceived as potential carriers of the new coronavirus in Kashmir.