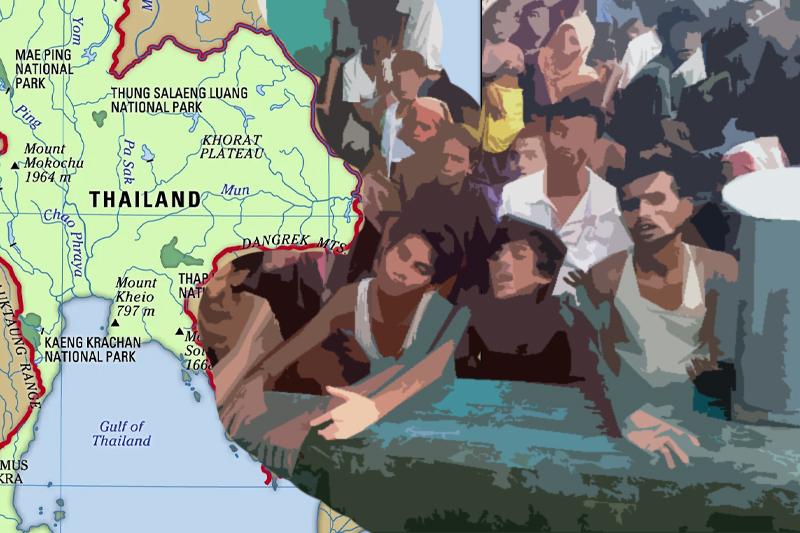 thailand trafficker abandons 106 illegal migrants in a truck
106 illegal migrants were found crammed into a truck in Prachuap Khiri Khan province, western Thailand, yesterday. The driver was nowhere to be found.
The forklift driver called Bang Saphan Police Station to report that he believed a "suspicious" vehicle on Petchkasem Road was carrying illegal immigrants.
A six-wheel truck with a Bangkok registration plate was found by the police. The driver was not present.
There was a sticker on the back of the truck that read "Music Home Instruments," but police heard voices.
The Burmese and Rohingya people were stacked on top of each other in the hot, unventilated truck. There were 75 males and 31 females, including 21 children under 15.
Police say the forklift driver was contacted by the truck's driver, who told him the truck encountered a problem and needed to be lifted and taken to Lang Suan district in Chumphon.
Upon arriving at the scene, the forklift driver was preparing to lift the truck when he heard voices.
Immediately, he called Bang Saphan Police Station. However, the truck driver fled before the police arrived.
The migrants told police that they entered Thailand via the Myanmar border in Tak province.
Traffickers arranged for the Thai truck driver to drive them from Myanmar to Malaysia, where they planned to work.
Keep Reading
The police are still searching for the driver and trying to prosecute him.
On October 25, 2004, in the Tak Bai district of Narathiwat province, humans were packed like cargo in the back of a lorry.
An estimated 1,500 people protested the detention of six men outside Tak Bai Police Station that day.
Seven demonstrators were killed when police fired tear gas and water cannons into the crowd to stop them from entering the station.
In Pattani province, almost 1300 people were detained and ordered to strip and crawl to trucks that would take them to an army camp.
78 people died from suffocation when police opened the trucks after a five-hour drive.
The tragedy was never prosecuted or held accountable by army officials.
Also Read:- Eventbrite to cut 8% of its workforce and move some roles to India