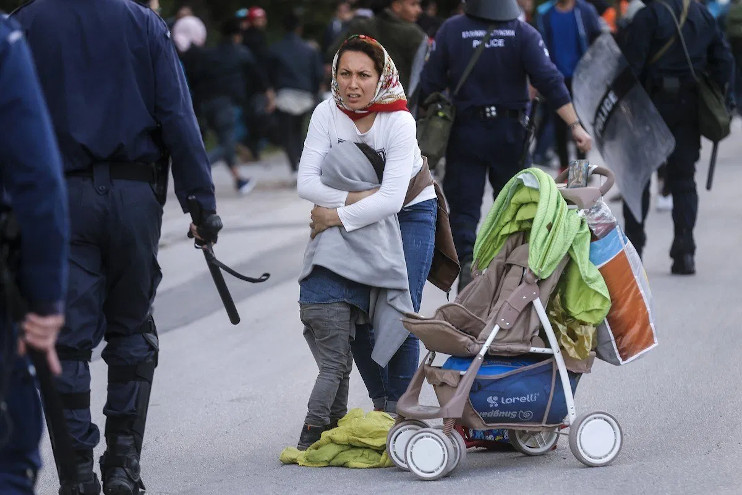 (C)Middle East Monitor
The refugees coming from Turkey to Greece crisis may amplify because of the risks of the new (COVID-19) spread, and their detention in harsh conditions, after the Greek authorities decided to deport dozens of minor refugees to different European countries.
Dozens of unaccompanied migrant children will be transferred to other countries in the European Union. The Greek Minister of Immigration revealed.' a human rights organization accused the Greek government of detaining these minor refugees in "abusive" conditions.
"Twelve children will be transferred to Luxembourg and fifty to Germany," Greek Immigration Minister Nutis Mitarachi told Athena Radio.
Human Rights Watch, an international human rights organization, previously called on the Greek government to release hundreds of unaccompanied minors held in "police cells and unsanitary detention centers, which is considered as a violation of children's rights especially in their condition.
"Confinement of children in dirty police cells has always been a wrong decision, but now it also exposes them to the risk of developing Covid-19," Eva Koussa, a researcher at Human Rights Watch in Greece, said in a statement.
"The Greek government must end this abusive practice and ensure that these vulnerable children get the care and protection they need and deserve." Kossieh added.
The organization indicated through government data that more than 330 children are in police custody awaiting transportation to a shelter, while they numbered 180 in January.
Last week, a Greek youth support group said it was providing psychological help by phone to a 10-year-old Syrian boy who spent 44 days in a police cell.
The foundation, called Aressis, said the boy was arrested in February at the Greek-Albanian border while trying to travel to join his family in Germany.
The child could not be reached immediately, due to movement restrictions in Greece on the incidence of the emerging Corona virus.
Greece receives about 100,000 asylum seekers, most of them in camps and in hotels or apartment rooms.
The country is witnessing a massive accumulation in five islands in the Aegean Sea near Turkey, where there are more than 36 thousand people in places which can hold no more than 6 thousand people.
The deadly corona virus spread to two camps on the Greek mainland, obliged the authorities to close the facilities for people's safety.
That is why the government has so far resisted pressure to transfer asylum seekers to the mainland. On Monday, the International Organization for Migration stated that more than 2,000 asylum seekers in high-risk groups will be temporarily transferred from camps on the islands where the risks of corona virus spread is very high considering the number of refugees in the camps and the conditions they live in, to hotels and apartments which are more likely to prevent any disastrous spread of the virus among the refugees and by extension to the Greeks and to other European regions.
Gianluca Rocco, the head of the organization's mission in Greece, said the decision would include all those over the age of 65