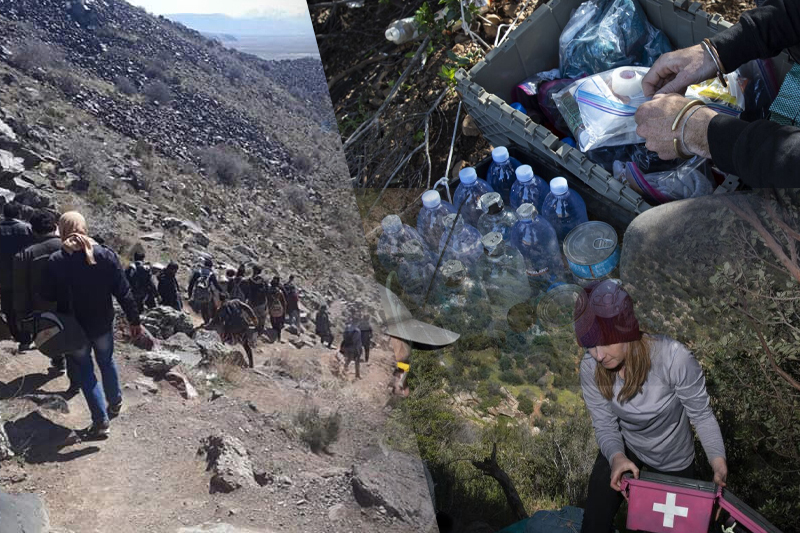 supplies left behind for migrants crossing ote mountain wilderness destroyed volunteers
It happened on a typical Saturday morning for the Borderlands Relief Collective volunteers. Crates full of water, canned goods, and first aid supplies were left behind as they made their way down Otay Mountain's rocky slopes.
According to David Yu Greenblatt, a volunteer with the organisation, "We leave any type of supplies that we think could mean the difference between life and death for migrants crossing through these borderlands."
For the past six months, according to Greenblatt, the group has been making these supply drops in the neighbourhood every week.
You can only imagine how chilly and drenched travellers can become while hiking through the mountains at night when the temperature falls into the 30s given all the recent winter storms, said Greenblatt. "Anything that we think could help someone out there in the mountains or the desert."
However, this time, their rescue efforts were in vain.
Keep Reading

Every single water bottle was emptied, according to Greenblatt. "Every single Gatorade bottle was emptied, and every food can was opened and dumped into the mud. We who were present that day won't soon forget it. It's very challenging to describe. Really, we were just stunned beyond belief.

Volunteer Emmet Daler Norris said, "We raced up the mountain, which was about a 45-minute, normally 40-minute hike." "We ran up a mountain as quickly as we could to try to see who did this because it felt like a deliberate act of purposeful harm," said the group.
The group then came across two border patrol officers. They recorded a portion of the argument on camera.
Is it part of your job description to slash water and open cans and dump food all over the wilderness area? a volunteer is seen asking one of the agents in video footage.
"It's abandoned property," the agent then replies.
Customs and Border Protection said in a statement to NBC 7 that agents have been reminded not to remove or destroy water stations, food, or other humanitarian aid left along trails in the Otay Mountain Wilderness by USBP leadership in the San Diego Sector.
They went on to say that the Office of Professional Responsibility at CBP had been notified about the incident.
Greenblatt stated, "Our response is simply to double down and return to this volunteer work with double, if not 10 times, the energy and enthusiasm.
The group believes this story will shed light on a problem that has, in their opinion, become widespread.
The general public needs to be made aware of the specific actions these federal agents are taking to endanger human life, according to Norris.