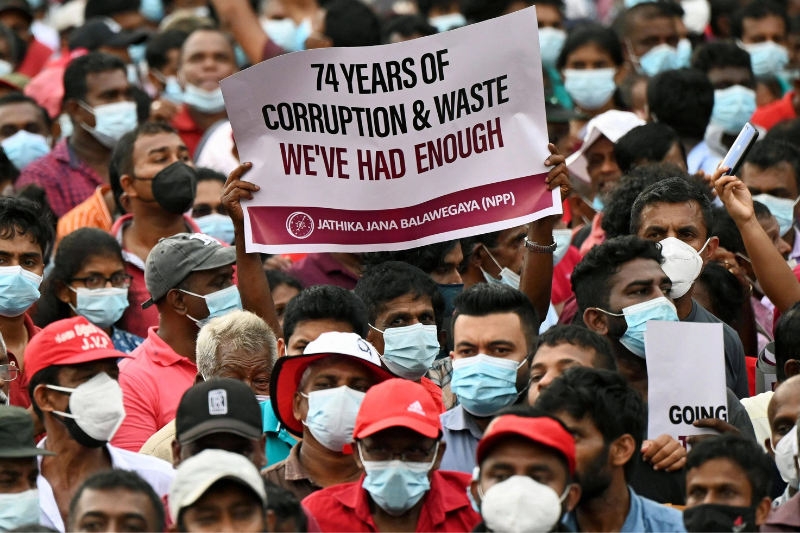 sri lanka workers protest govt's attacks on labor laws and pensions
Last updated on September 5th, 2023 at 06:09 am
Over 1,000 workers are protesting in Colombo, Sri Lanka against the government's decision to restructure domestic debt using the Employee Provident Fund (EPF). The Collective of Trade Unions and Civil Society Organizations organized the protest to call out the government's attacks on pensions and the country's existing labor laws.
The All Telecom Employees Union (ATEU) president Jagath Gurusinghe said if the government does not fulfill the workers' demands, the struggle will only be ended after the Ranil Wickremesinghe-led government is driven away. Celyon Bank Employees Union (CBEU) assistant secretary Shamal Nilange said if the government tries to touch the EPF, the working-class movement and the masses will organize a joint struggle.
Sri Lankan workers' living conditions have deteriorated with the high inflation and absence of real wage growth. Those working in export-oriented manufacturing sectors, like the garment industry, have been severely affected. Unions believe that the government's decision to restructure domestic debt using superannuation funds, like EPF and ETF, will be disastrous for the workers. They said the actual value of people's savings has already been hit through inflation and the depreciation of the Sri Lankan rupee.
Keep Reading
Experts say reduction in rate on pension funds would result in a 30 percent decline in the value of money withdrawn 10 years from now. Anton Marcus, joint secretary of IndustriALL affiliate, Free Trade Zone and General Service Employees Federation, said the government's decision will adversely affect the lives of more than 2.5 million workers in Sri Lanka. "We strongly urge the government to immediately call for a well-represented trade union forum to discuss the matter."
The IndustriALL Global Union has also written to the International Monetary Fund (IMF) to recognize the responsibility of creditors in the current financial crisis and suspend interest payments. It urged the IMF to cease imposing policies on the Sri Lankan government that undermine the country's human rights obligations.
Furthermore, the Sri Lankan government has proposed changes to labor law that contradict internationally recognized core labor standards. The government wants to remove the 8-hour work day, to make way for extended shifts up to 16-hour days, but there's no provision for overtime payment, protection for unfair dismissal, and collective bargaining.
The Sri Lankan government is being called to stop the reform process and respect international labor standards.