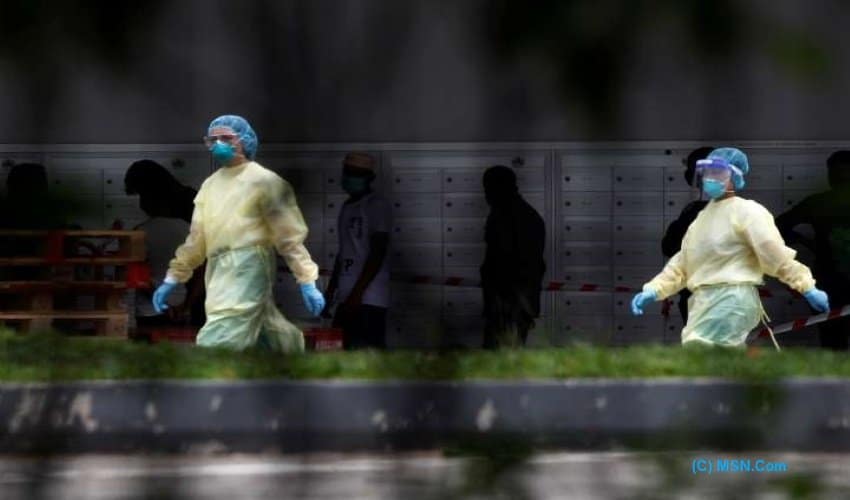 Singapore continues to struggle in containing its Covid-19 cases, especially amongst the migrant working clusters.
Singapore continues to struggle in containing its Covid-19 cases, especially amongst the migrant working clusters. The virus now seems to have spread to foreign worker dormitories, which were earlier tested to be clear off the virus.
Sadly, a vast majority of cases nearing 57,000 have been reported from cramped dormitories. There has been spacing issue and the authorities seemed to have ignored this categorical requirement for the prevention of widespread of the virus itself. These crammed up dormitories are reported to house more than 300,000 migrant workers. Most of them are of South Asian origins employed in sectors such as construction and ship-building.
The number of migrant workers infected with COVID-19 has sparked much conversation about their living conditions. @LienCentreSMU's Christy Davis and SMU Masters alumnus Cai Yinzhou share key issues that policymakers and the public must address. #SMUBlog https://t.co/g4weVUKG5x

— Singapore Management University (@sgSMU) September 2, 2020
Singapore makes use of a large migrant population to do jobs which they consider to be low paid and high risk in activity. The testing has been shifted from swabs to serological tests that detect past infections. Of the 43 tested, half of them show that they have had past infections and that the virus has recurred in their system.
While Singapore had been widely praised for its efforts to contain the outbreak of the virus, its dormitories have suffered the worst. A two month lockdown was a result of these infections going unchecked. According to the Singaporean PM Lee Hsein Loong, the authorities were not aware of the asymptomatic cases and therefore the infection spread rapidly, creating a problem for most migrants living in crammed conditions.
The condition of migrant workers in Singapore is pathetic. Most do not receive meals which the employer is supposed to provide them with. Most of these dormitories do not have proper ventilation or air-condition. Migrant workers are giving food that lacks proper nutrition. Beds are shared amongst day and night shift workers.  In the previous years, there have been cases of massive outbreak of dengue amongst workers. Most were deported when they fell sick. Many were working without wages being paid and overtime forced on them.  These make up for so many reasons as to why the Covid-19 virus might have found an easy place to breed itself.  Conditions of mental disturbance are common since these workers are not allowed to venture out. Some have been shifted to floating accommodations to maintain social distancing. But their living conditions are far from normal leave alone healthy.