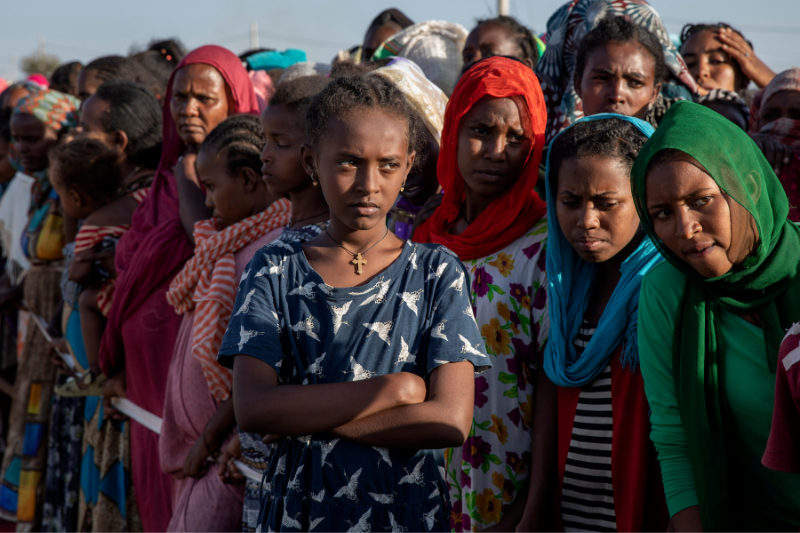 rape and sexual violence of women and girls in tigray un report
Eritrean troops and Amhara militia continue to commit atrocities in Tigray, including arrest, detention and torture of civilians. The International Commission of Human Rights Experts on Ethiopia sounded alarm in its latest report about the situation in the country. It remains extremely grave.
Peace remains fragile as conflict has brought about widespread insecurity and humanitarian crisis in the region. The ongoing conflict in Tigray is creating challenges for Ethiopia's economy and state building process. The government has failed to protect its citizens and violence continues to accelerate. 
Violent Confrontations in Tigray
Commission Chair Mohamed Chande Othman stated in the report that violent confrontations are at a near national scale, with alarming reports of violations against civilians in the Amhara region. Experts noted patterns of violations, increasing securitization of the state, and entrenched impunity. The report highlighted that Eritrean troops and Amhara militia members are behind grave violations in Tigray, including systematic rape and sexual violence of women and girls. 
Moreover, government forces are arresting, detaining and torturing civilians in Oromia. The UN received credible reports about violations against Amhara civilians, since the announcement of a state of emergency last month.
Keep Reading
Commissioner Radhika Coomaraswamy said they cannot overlook the gravity of violations perpetrated in Ethiopia by all parties involved. She said the ongoing presence of Eritrean troops in Ethiopia is a clear sign of an entrenched policy of impunity.
It reflects the Federal Government's continued support for and tolerance of such violations. The Commissioner highlighted that atrocities have devastated communities and seriously eroded the fabric of society.
Tigray Communities Are Scared, Traumatized
"Entire families have been killed, relatives forced to watch horrific crimes against their loved ones, while whole communities have been displaced or expelled from their homes." Coomaraswamy said many people are too fearful to return, and others are just unable to. "Trauma, both individual and collective, is likely to persist for generations." 
She called for the need for a credible, inclusive, and meaningful process of truth, justice, reconciliation and healing. Furthermore, Commissioner Steven Ratner focused on transitional justice to help countries come in terms with past atrocities.
But he said engagement with hundreds of victims, their families, and representatives shows lack of trust in the ability and willingness of the Ethiopian government and institutions to carry out credible process.