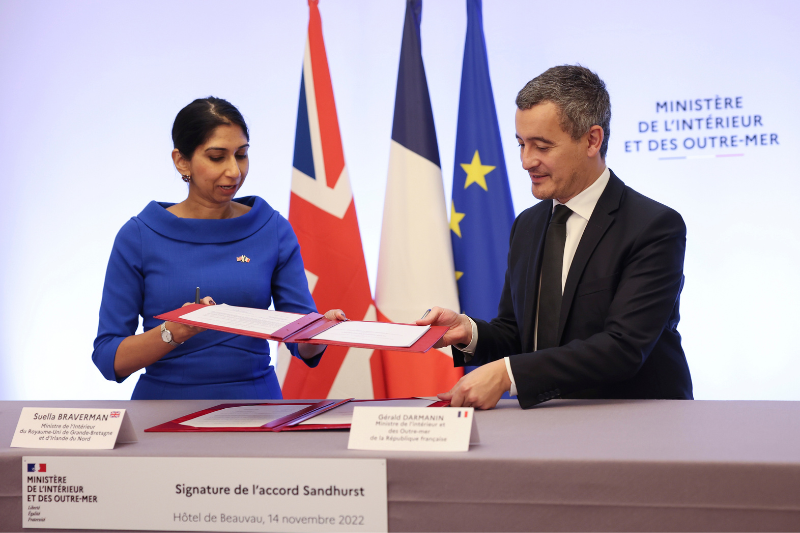 france and uk set to discuss channel crossing crisis
With France under scrutiny for inaction in stopping small boats crossing the Channel, Emmanuel Macron and UK's Sir Keir Starmer are set to talk about a new security agreement. The UK is very keen to tackle people smuggling and bringing gang leaders to justice.
Channel crossing crisis is plaguing Europe, with 20,973 migrants and 436 boats, being the highest number recorded so far in the UK for the year 2023. The UK Home Office's Small Boats Operational Command part of Border Force is working with the French and other agencies to tackle the issue. It seeks to disrupt crossings, save lives at sea and ensure effective processing of arrivals in the UK. 
A spokesperson for the UK government said the illegal and dangerous channel crossings cannot continue. The UK is taking immediate steps to tackle the people-smuggling gangs and to get the country's immigration system under control.
People Risk their Lives in the Channel Crossing
The United Kingdom recorded an unsustainable and unacceptable number of people in 2022 putting their lives at risk to reach Britain illegally. The English crossing is one of the world's busiest shipping lanes. People desperate to get to the UK's shores pay hefty amounts, in many cases their life savings, just to get into small, unsafe boats or dinghies to enter the UK.
Keep Reading
These migrants or refugees put their lives at risk because they have already fled conflicts, wars and persecution. They want to escape wars, famines and poverty. Their journeys are full of risks and those who are able to make it through are lucky to do so, but in the end they face the brunt of the respective governments, be it the UK, France, Italy or Greece. They face risk at every step.
However, the European governments turn a blind eye to the migrants' desperation and opt to tackle people smuggling. Flash back to the Syrian refugee crisis which began in 2011 and peaked in 2018. It had devastating consequences on children, young girls and women. Millions of Syrians set afoot for central Europe, including Germany.
Migrants Prefer UK Over France
Despite heightening security measures in the channel crossing, the UK continues to see an influx of migrants. Reports highlight that many migrants prefer the UK because they already have families living there or cite colonial ties with the kingdom. Some even say France is not safe because of racism, exploitation and abuse.
Refugees and migrants prefer long foot routes and sea journeys to the UK, but the British government is now sending asylum seekers to Rwanda.