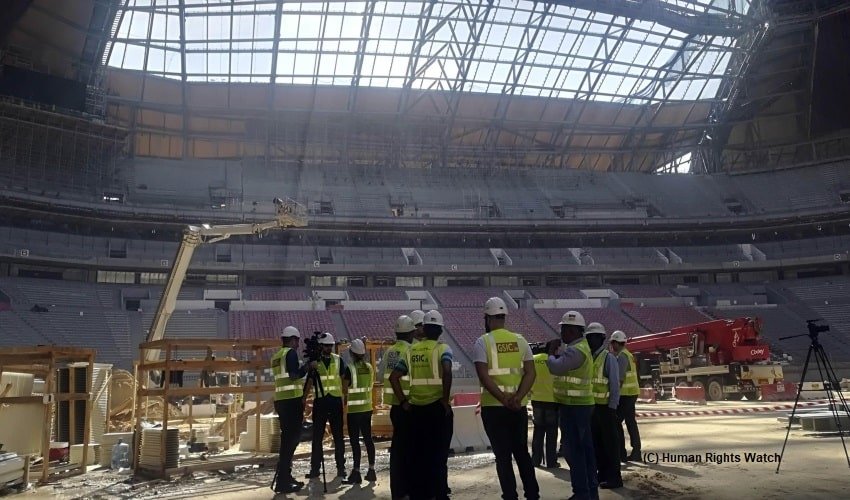 Qatar took a bold and progressive step introducing two new labor laws aiming at abolishing its abusive kafala system
Last month, Qatar took a bold and progressive step introducing two new labor laws aiming at abolishing its abusive kafala system. The new laws made way for a liberal society focusing on workers' rights. One of the new legislations uprooted the system which could be loosely defined as bonded slavery as earlier migrant workers could not change jobs without the permission of their employers. Besides, the Gulf county also introduced a monthly minimum wage of 1,000 Qatari riyal, along with basic living allowances of 300 QAR (for food) and 500 QAR (for accommodation) for the workers who were not provided these facilities by their company.
Many rights groups hailed the enactment of these laws by the Gulf nation but warned that the reform in its true sense could be witnessed only if the Qatari authorities ensured their swift and proper implemented.
If implemented as promised, the removal of restrictions on workers changing jobs should make it easier for workers to escape abuse. This is an encouraging sign that Qatar may finally be heading in the right direction, and we call on Qatar to go further with these reforms, including removing the charge of absconding, to make sure that the rights of all workers are fully protected."

Steve Cockburn, Amnesty International's Head of Economic and Social Justice
While there is never a right time to bring in right reforms in the system, but with respect to this biggest exporter of oil, who is solely dependent on its migrant labour, timing is very important to understand the true context of these reforms as they hold not only social but also political, economic and strategic implications. The migrant workers comprise 90 percent of Qatari population.
The nation which in the past did not pay any heed to the abuses its two million-plus labour force endured, 95 percent of whom are foreign nationals, has since last year woken up to introducing labour reforms. Could it be too much of a coincidence that the new reforms were brought in as the FIFA 2022 World Cup tournament was nearing. Qatar, who won the bid to host the world's most popular sporting event, committed to spending $200 billion for developing infrastructure for the event. Qatar needs its foreign workers to complete the elaborate infrastructure projects which have been going on for past five to six years. Doha had been fervently criticised by media and rights groups all across the world over last few years for its rampant exploitation of its work force. The coronavirus pandemic worsened the workers condition, who usually are tucked away far from city in cramped industrial residential units.
SAP Client Alert: ADLSA Announces New Minimum Wage Law and an End to the NOC Among Other Changes | August 30, 2020 #SAPLaw #Qatar #LabourLaw pic.twitter.com/bYTU8LwEFC

— Sultan Al-Abdulla & Partners (@SAPQatarLaw) August 30, 2020
To revamp its image, and to stop migrants fleeing from the world of exploitation Doha vouched for better labour reforms and also encouraged migrant labour to stay and stick around on a long term basis. With respect to the new laws, Qatar's Minister of Commerce and Industry Ali bin Ahmed Al Kuwari said, "Companies will put lots of effort into retaining their employees, developing their talents, offering them the right packages. This is part of our long-term investment — an investment in the people, whether they are expats or locals." It is an unprecedented move as nations generally opt for hiring its own citizens over foreigners. Times changed with the change in demand and supply axis. Qatar need them to get the job done. But what these reforms fail to guarantee was to bring justice to many migrants who gave their sweet, blood and even lives to these projects as hundreds died of exhaustion, lack of nutrition and heat stroke. Besides many were forced to work without months of salary and eventually returned home penniless. Would Qatar hold its influential and wealthy accountable to provide a fair ground?