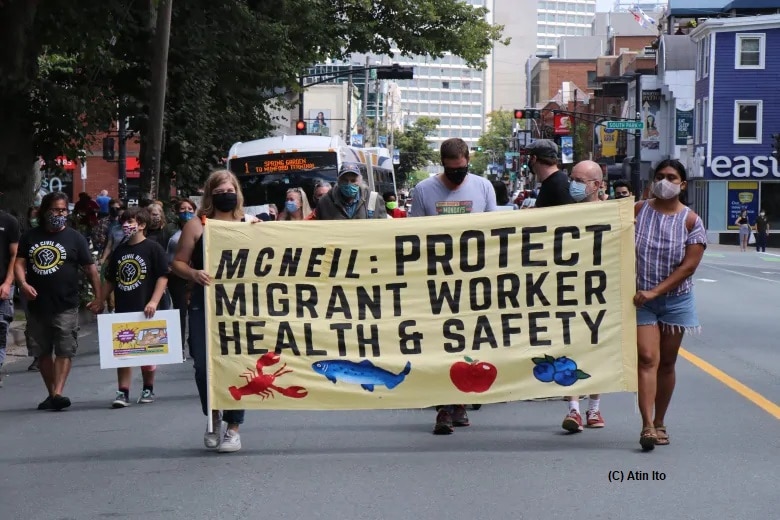 A digital event on Saturday was used by migrant workers in British Columbia to rally for their "just recovery" from Covid-19 pandemic
A digital event on Saturday was used by migrant workers in British Columbia to rally for their "just recovery" from Covid-19 pandemic. The pandemic has exposed the true dependence of Canada on migrant workers and undocumented workers to perform essential jobs. Chit Arma, head of the Migrant Workers Centre's board of directors in Vancouver said, "The pandemic has also exposed the extent to which these essential workers do not enjoy essential rights, and the long-standing systemic problems with the temporary foreign work program that puts workers in an extremely precarious position." The Saturday rally was part of Amnesty for Undocumented Workers Campaign held by Migrant Workers Centre.  
The campaign has called on government to establish a permanent residency program to cover all essential migrant and undocumented workers in B.C. The rally has also urged authorities to let workers apply for openwork permit while they wait for their application to be processed.
Migrant workers and advocates called for a "just recovery'' from the COVID-19 pandemic during a digital rally on Saturday based out of Vancouver. https://t.co/DuyOjIFMdd

— CBC British Columbia (@cbcnewsbc) September 20, 2020
The federal government had announced funds of $58.6 million on July 31 to ensure protection for temporary migrant workers and also to address Covid-19 outbreaks occurring in farms. Out of that $35 million were earmarked for health and safety improvement measures on farms and living quarters of all workers in an attempt to curb the spread of infection. Further $7.4 million were allotted to support the migrant workers. This included $6 million for direct outreach programs through support organizations for migrants.
In August, a temporary measure to offer permanent residency pathway for asylum seekers working in health care was announced by Immigration Minister Marco Mendicino. Under this the front-line workers would be allowed to apply for PR if they meet a certain criteria. The claim must have been made before March 13 and they must have been issued a work permit after the claim. Natalie Drolet the executive director of Migrant Workers Centre said that this measure leaves many migrant and undocumented workers exposed who are also in front-line during pandemic like grocery store employees, cleaners, agricultural workers and truckers.
The British Columbia government announced on Saturday itself of employer registry program for temporary foreign workers. Under this the employers will have to register with government until December 15 if they wish to employ migrant workers through temporary foreign workers program. This will ensure a proper framework of employer information with government who hire migrant workers, to enable timely inspections and law enforcements.